SLICK WOODS IS immediately recognisable as one of the many diverse faces featured across Rihanna's cosmetic and fashion lines. 
Slick made headlines this weekend after revealing that she was in active labour as she walked for Rihanna's Savage x Fenty A/W show at New York Fashion Week. She later gave birth to her first son Saphir.
So how did this go from relative unknown to tabloid fodder in the space of three years?
Well, let's start with the name – she earned the moniker of Slick Woods from her ability to roll joints.
Slick Woods was born Simone Thompson in Minneapolis. She spent much of her time growing up between homes there and in Los Angeles with her grandmother and dog after her mother was imprisoned for manslaughter when she was four years-old.
At the time, Slick was making money by whatever means possible – "bank scams, credit card scams, blank cheques". Other get-rich-quick schemes included selling Hot Cheetos out of her backpack, giving her enough money to buy her first phone.
Aged 18, she was jailed for several months.
I was in a place where I didn't believe in anything, so I was so susceptible to evil energy. I'm so easily turned. It's not something I'm proud of. And when everyone in the world is telling you that you're going to be just like your mother, and then you're behind bars…"
Woods was actually discovered while living on the streets by British model Ash Stymest, who is credited with helping to launch her fashion career after he offered her weed at a bus stop.
Slick said of the meeting: "I'm like, 'I'm going to tase this n***a.' I didn't trust him. I didn't know if he was trying to make me a porn star."
Jonas Gustavsson / SIPA USA/PA Images Model Ash Stymest walks on the runway during the Chanel Fashion Show at FW17 held at the Grand Palais in Paris, France on March 7, 2017. Jonas Gustavsson / SIPA USA/PA Images / SIPA USA/PA Images
Her first gig saw her model for Kanye West's Yeezy line.
Woods told ES Magazine that Kanye was the first person to predict her meteoric rise to fame.
[Kanye] was the first person that told me I was going to blow up who I actually believed."
He's also the person responsible for her Instagram presence, telling her in typical Kanye fashion: "How do you not have Instagram? No wonder you're not a model yet. Get Instagram. Put it on your phone now." (Fair, TBH.)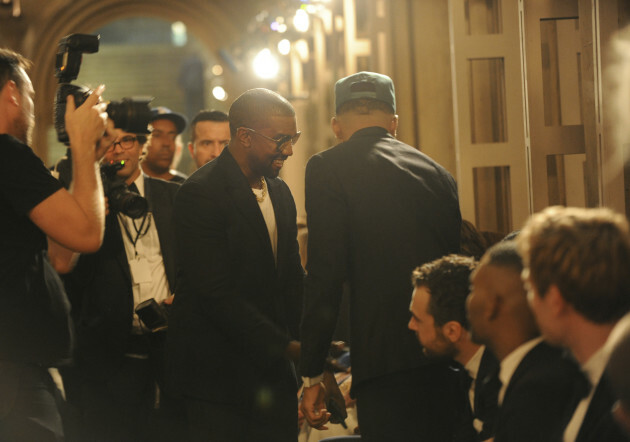 Diane Bondareff / AP/Press Association Images Kanye West arrives at the Ralph Lauren 50th Anniversary Fashion Show during New York Fashion Week, Friday, Sept. 7, 2018 Diane Bondareff / AP/Press Association Images / AP/Press Association Images
She actually hates modelling, but is extremely grateful for the lifestyle it's afforded her.
Since her big break, Slick was modelled for the likes of Jeremy Scott, Marc Jacobs and Miu Miu. At 21, Mercedes Benz crowned her a "cultural visionary". Not bad!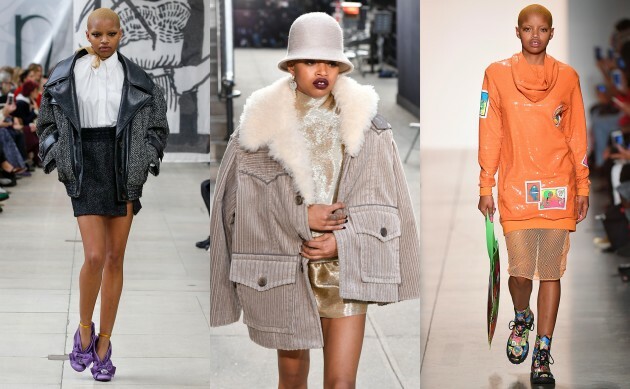 Jonas Gustavsson / SIPA USA/PA Images/ (L-R) Slicks Woods walks the runway for Miu Miu, Marc Jacobs and Jeremy Scott. Jonas Gustavsson / SIPA USA/PA Images/ / SIPA USA/PA Images/
But she's been pretty frank in interviews when it comes to talking about how easy she finds modelling. Speaking to ELLE magazine last year, she said:
I think so, absolutely. Going through everything I did is a domino effect. It made me appreciate everything more. I go to Paris and even the moldings [on the buildings] bring me to tears. Other girls are just sitting there on their phones. It's damn near laughable.
I mean, I hate my job. I'll admit that. But I'm not doing anything I don't want to do. I'm not going to say, "Oh my god, sitting in this room is so tiring!" It's not. But I do hate the idea of my job, a lot. But as long as you're being treated like a human, life is good."
Rihanna is obsessed with her, but the feeling wasn't mutual initially.
The singer-turned-fashion designer spotted Slick on Instagram (thanks, Kanye!) and the rest, as they say, is history.
Slick told Vogue that she wasn't a big fan of her before she got into modelling, labelling herself a "teenage asshole".
Nowadays, she's her number one supporter – she even has the word 'Fenty' tattooed behind her ear. She told ELLE magazine:
You ever loved someone so much that every time you see them, you end up in tears somehow? She reminds me of my mother. Like, they're the same person. I tell them they remind me of each other all the time."
Erykah Badu is going to be her spiritual guide during childbirth.
Slick posted a photo of herself in a swimsuit in July with the caption "in good company".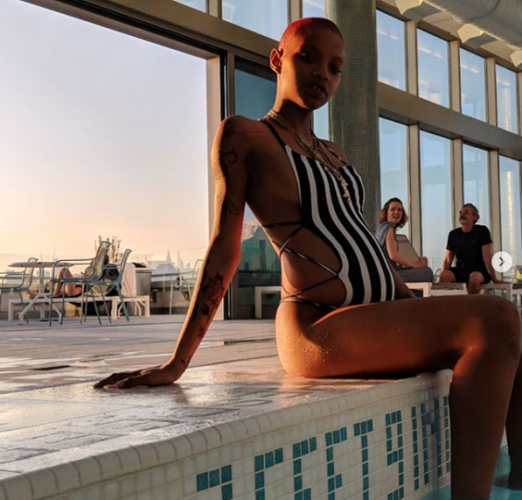 Slick Woods / Instagram Slick Woods / Instagram / Instagram
Erykah has previously helped deliver 40 babies as a practising doula – essentially, someone who gives emotional support before, during and after labour. Slick called Badu a "mommy role model, a mother I look up to, who kills her shit and is a boss-ass bitch."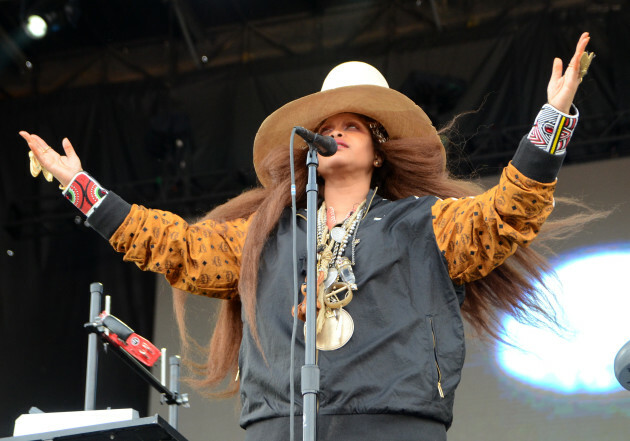 Cal Sport Media / SIPA USA/PA Images Singer songwriter Erykah Badu performs during the Soundset Music Festival at the Minnesota State Fairgrounds in Falcon Heights, Minnesota. Cal Sport Media / SIPA USA/PA Images / SIPA USA/PA Images
She plans to co-parent cross-country with Saphir's father, fellow model Adonis Bosso – and had a great response for those questioning her sexuality. 
SIPA USA / PA Images Adonis Bosso arrives at the Audi Celebrates the 69th Emmys held at The Highlight Room - Dream Hotel in Hollywood, CA on Thursday, September 14, 2017. SIPA USA / PA Images / PA Images
Prior to meeting Adonis, Slick was dating women.
With sexuality, when you are a public figure you have to pick a side, black or white. But I'm grey."
Slick didn't find out a baby was on the way until five months into her pregnancy – a result of an incorrect diagnosis of infertility given to her when she was young.
She told ELLE magazine earlier this year:
I was really, really, really sick in London, but thought it was because of travel, so a doctor gave me pills for flu. Went to Paris: more pills for flu. And then I went to LA, and they tried a sonogram, and I saw my baby's face and heard his heartbeat. Tears of joy."
DailyEdge is on Instagram!