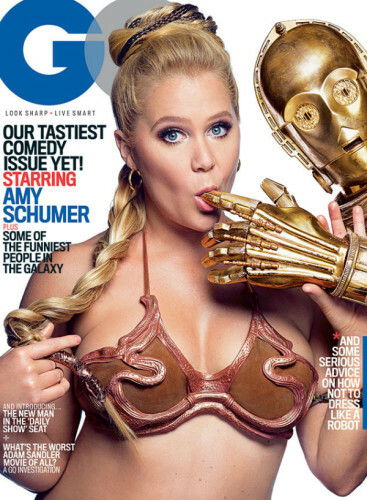 GQ GQ
THE COVER OF this month's GQ has been turning heads over the last couple of days, as it shows the comedian Amy Schumer as Princess Leia in a number of suggestive and comedic poses with other Star Wars characters.
As tongue-in-cheek and hilarious as most people find the photos, there has been somewhat of a backlash from die hard Star Wars fans over what they see as an inappropriate use of classic characters.
They took to Twitter to let it be known that they weren't happy
And last night, the official Star Wars Twitter account confirmed that the studio had nothing to do with the shoot
In general, Star Wars fans were a bit upset over the whole thing
The shoot shows the comedian in all sorts of poses with characters like R2-D2 and C-3PO from the franchise
And, outside of some Star Wars fans, loads of people are loving it
Thinking it's absolutely gas, and that Princess Leia is a well known character in pop culture and worthy of some fun
With some basically saying they don't care that Star Wars aren't happy
And Amy's fans don't love her any less for it
Can't we all just get along?