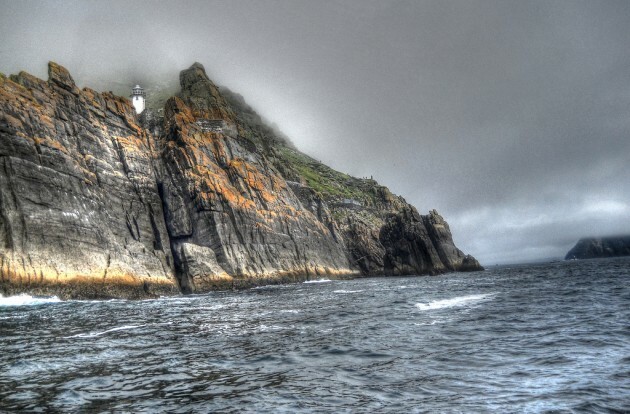 psyberartist psyberartist
REPORTS ARE EVERYWHERE this morning that scenes from Star Wars Episode VII will be filmed on Skellig Michael off Kerry.
The new blockbuster, directed by JJ Abrams, is scheduled for release in December 2015 but filming – primarily based in the UK – has already begun.
So is it really headed for Kerry? Well, the stories are all based on one report by Aidan O'Connor in yesterday's Kerry's Eye newspaper.
Kerry's Eye Kerry's Eye
O'Connor writes that it is "now certain that [Skellig Michael] will become one of the major film location sites", citing a "senior government source" as having confirmed the news.
When asked for comment by DailyEdge.ie, the OPW – who manage the former sixth-century monastic settlement on Skellig for the State – confirmed that a film production would be taking place on the island.
ash_crow ash_crow
However, they declined to confirm that it would be Star Wars. The OPW statement reads:
Skellig Michael is being made available for a film production shoot which is happening in late July 2014 on the Island. OPW will be providing onsite support through our staff who are present on the Island throughout the summer, as normal. They will be continuing to manage visitors throughout and will, obviously, continue to safeguard the National Monument and the Island, which is a World Heritage Site.
The production is being "fully supported by the Department of Arts Heritage and the Gaeltacht and the Irish Film Board", the OPW added.
DailyEdge.ie has reached out to the Irish Film Board for comment.
Several reports claim today that the island will be closed for three days in late August. This conflicts with the OPW statement, which states that the production will take place in late July.
YouTube JJ Abrams on the set of the new movie YouTube
Radio Kerry adds that the unnamed film has already set transport arrangements in place, stating that local boatmen in Portmagee have "reached an agreement with the film crew regarding arrangements for ferrying them and equipment to the island".
Earlier this week, JJ Abrams gave fans a first look at the iconic X-Wing fighter constructed for the new film, in this video for UNICEF:
Star Wars / YouTube