THIS CELTIC CROSS was spotted in Killea in Donegal by passengers flying into Derry airport.
Darren Sheaffer Darren Sheaffer
Now this breathtaking footage of the mysterious forest formation, captured by Darren Sheaffer, is going viral thanks to a report on UTV News.
UTV reporter Gareth Wilkinson got to the bottom of the Celtic Cross formation, discovering some pretty amazing origins.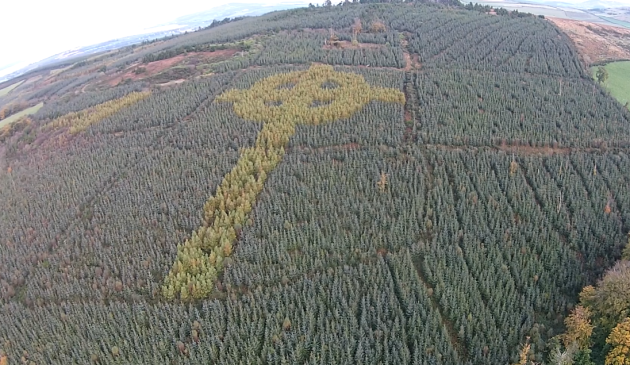 Darren Sheaffer Darren Sheaffer
It was planted by forester Liam Emmery near Killea in Donegal, and is only revealed during the autumn. He created the effect using two different trees types of trees, which must have taken some SERIOUS planning.
Sadly, Emmery died after suffering brain damage in an accident six years ago.
His wife Norma told UTV she knew little about her husband's work, but knew it would make him proud.
I'd forgotten about the plantation, if he was here, we would have all heard about it because he would have been so proud.
Horticultural expert Gareth Austin said the plantation could last sixty or seventy years, and would've taken a huge amount of skill to place.
Thank you Liam, what a stunning sight.
DailyEdge.ie / YouTube
DailyEdge is on Snapchat! Tap the button below to add!