EVERY WEEKDAY MORNING, DailyEdge.ie rounds up the best of the day's celebrity dirt – from the top to the very bottom.
#SLY, SO SLY Sylvester Stallone has made it very clear that he has no love for his Expendables co-star Bruce Willis, calling him "greedy and lazy" on Twitter.
Stallone was reacting to the news that Harrison Ford is to replace Willis on the third installment of The Expendables (thus bringing the combined age of the actors up to one gagillion).
Jason Statham, Arnold Schwarzenegger, Mickey Rourke, Jet Li and Terry Crews have also appeared in the first two films, while the third will add Mel Gibson, Jackie Chan, Wesley Snipes, Kellan Lutz and Milla Jovovich to the cast. (Us Weekly)
Stallone expressed his glee over the Harrison Ford news last night, tweeting:

Followed by:
We smell handbags. Old, leathery handbags.
#CAN'T TURN LEFT Leonardo DiCaprio has a new supermodel girlfriend by all accounts.
He's been spotted on holidays with Victoria's Secret ride Toni Garrn, lobbing the gob and having the LOLs. (Daily Mail)
Leo has form in this area – his ex girlfriends include Gisele Bundchen and Bar Rafeali.
What we want to know is… when is he going to settle down and find himself a nice Irish girl?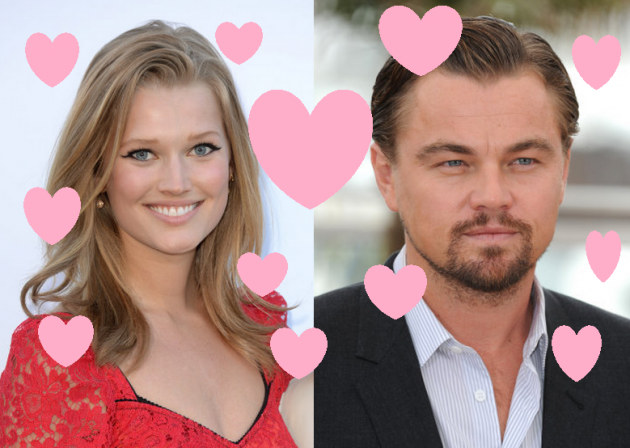 Imagine the beautiful, beautiful babies… (Doug Peters/Doug Peters/EMPICS Entertainment)
#I KISSED A DOPE Russell Brand has been having a go at his sex life with Katy Perry when they were married, saying that he felt like a monk.
Brand made a joke during a stand up show in London in which he said that having it off with just one person is just one better than being a monk.
He said there were many times when he would be thinking of "anyone else". (NY Daily News)
Charming.
Chris Pizzello/AP/Press Association Images
And the rest of the day's celebrity dirt…
Did you miss yesterday's Dredge about why La Lohan won't be in Ireland anytime soon? Here it is…