YESTERDAY, TAYLOR SWIFT made a series of announcements that caused the internet to melt.
It started when she announced that she had some secrets to share. Via a streamed Q&A on Yahoo, of course.
Then she leaned in close and told us some secrets.
Firstly, she debuted her new single and video Shake It Off, a song about being positive even when the haters are hatin'. The song is incredibly catchy and the video features Taylor Swift dancing awkwardly in a variety of costumes with fans cherrypicked from the internet.
It's going to be massive.
TaylorSwiftVEVO / YouTube
Next up, she revealed that her new album will be released on October 27th. The album is entitled 1989 – she was born in 1989, you see – and she describes it as her first pop album. Additionally, the album artwork will be made up of Polaroids.
The album will not only include, you know, the songs, but will also feature voice memos from T-Swift herself, which will give fans an insight into how Swift writes her songs.
Naturally, all this information sent the internet into a tizzy.
But not everyone was a fan: some accused Taylor Swift of racism and cultural appropriation for featuring black women twerking in her video.
Some noted the awkward timing of the press conference.
While others just expressed their appreciation for T-Swift through dance.
*hums Shake It Off for time immemorial*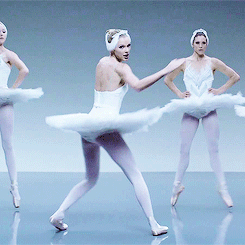 nikolinas / Tumblr nikolinas / Tumblr / Tumblr