WITH THE LEAVING Cert just around the corner, here's an innovative idea.
Ike Stoner, a student at Skyview High School in Montana, decided that he'd rather come up with an elaborate and extensive plot to get out of exams, than actually do exams.
His world history teacher Colter Pierce is a bit of a Taylor Swift fan, so he made a bet with him that if he got Swift to call him, Pierce would cancel the whole class final exams.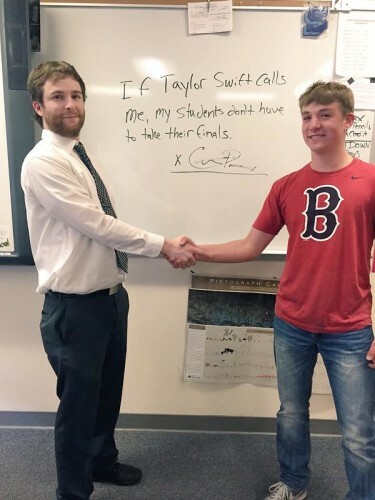 stoneman802 stoneman802
Stoner took to Twitter and Facebook to push the mission, and it's already gaining a lot of traction.
Speaking to KVTQ, Stoner said it was a joke at first, done so he could get more Twitter followers. But to his surprise, school officials agreed to honor the bet.
Ah, the education system.
When his classmate posted a photo of the agreement on Facebook, all hell broke loose. The photo currently stands at 270,504 shares, and the plea has even made the Today Show in New York.
Stoner's learning that much…
There's been no word from Swift yet, but Colter posted on Facebook that he's enjoying the ride:
Thank you to everyone who has shared my student's post about Taylor Swift. No, she has not called, but the students are very excited about all the "news" this is making. Thank you once again for helping get my students so excited about something. It's been fun to watch.
Stay tuned. She's got two weeks.