CHRISTMAS HASN'T EVEN arrived yet but we're already thinking to next year's Croke Park gigs.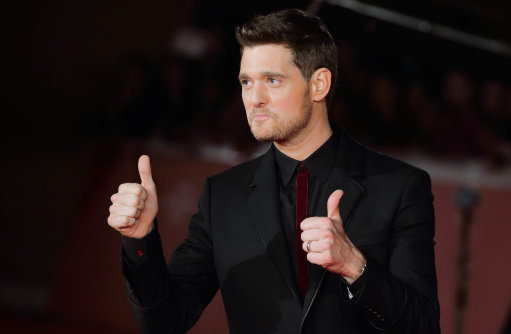 Evandro Inetti, PA Images Evandro Inetti, PA Images
Michael Bublè was announced as the first performer this morning, and he'll play a fully-seated show on Saturday, July 7th, 2018. Here was us thinking he only came out of hibernation in December.
But among all the excitement, something very interesting happened on air with Pat Kenny today. Pat was doing his Newstalk show from Croke Park this morning for Science Week. Speaking to stadium director Peter McKenna, Pat (in a shocking finger-on-the-pop-pulse moment) asked if the rumours that Taylor Swift would play Croker next year were true.
Here's how the conversation went:
Pat: I've heard Taylor Swift is coming, is that true?
McKenna: You're always top of the pile, Pat, but I couldn't confirm.
Pat pushed:
You couldn't confirm, but you wouldn't be telling me no?
Laughing, McKenna said:
I'm not somebody to tell lies on the radio, Pat.
INTERESTING.
If we were to wildly speculate, it sounds like this gig hasn't been ruled out.
Swift released her sixth studio album on Friday, and last played two sold out 3Arena shows back in 2015 following her 1989 album.
She hasn't yet announced any plans to tour Reputation next year, but fans are completely convinced she will.
But will she make a stop in Croker?
Earlier in the month, Swift sent information on presale codes to fans in Ireland and the UK who bought the album before it went on sale. The email claims to offer them the chance to buy gig tickets for 2018 before anyone else. Why would she go to the trouble of that, if there wasn't a tour incoming?
There's also a warning on Ticketmaster that you must register before November 28 to get access to tickets.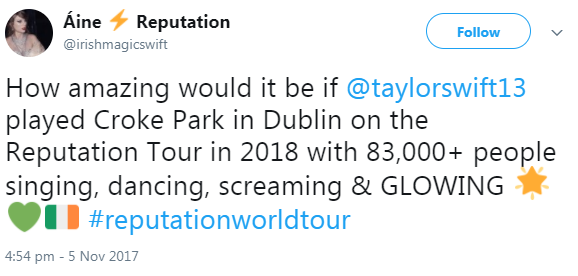 Which leads us on to the tour announcement.
Billboard reported that Taylor is set to announce a massive stadium tour on her birthday, December 13. That's exactly one month from now. Sure, it could be the Aviva, but McKenna's response has us all excited.
UPDATE: She's already announced loads of dates for the United States, all big NFL stadiums. June is looking pretty free…
So she's doing a stadium tour, it looks like there'll be an Irish date, and the stadium director of Croke Park won't deny she's set to play there.
Start saving.
DailyEdge is on Instagram!