LAST NIGHT, LORDE released a banger of a new tune called Green Light.
People are bloody loving it.
Among those to give the song a shout out? None other than Taylor Swift. (After all, she is Lorde's bestie.)
Last night, she shared the song on Instagram and wrote:
g2g brb just gonna make up an interpretive dance to this magnificent bop for the ages ELLA I LOVE YOU
g2g
brb
Taylor, we are no longer living in the era of MSN Messenger. The teens don't say these phrases anymore.
Last night, Tumblr user screamedsooloud wrote, "taylor swift just used g2g, brb and bop in the same caption someone tell her sometimes less is more"

screamedsooloud / Tumblr screamedsooloud / Tumblr / Tumblr
And because Taylor Swift is a self-professed Tumblr creep, she only went and bloody replied to it.
In an apparent attempt to appear down with the kids, Taylor peppered her response with 'teen' phrases and, well, it was about as embarrassing as you'd expect.
lol bb you must be jking G2G brb learn more teen words cause bae FOR FACTS that particular bop has me shook as well as lit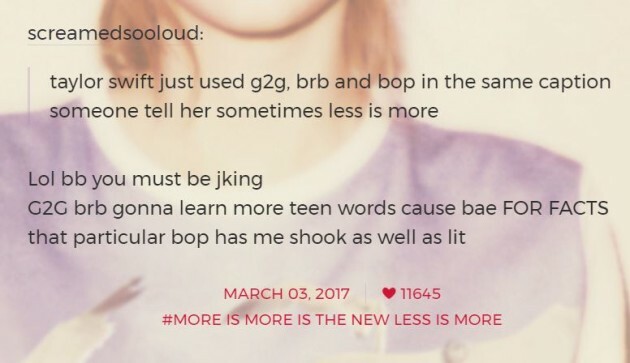 Taylor Swift / Tumblr Taylor Swift / Tumblr / Tumblr
Is Taylor Swift trying to become the sentient version of the 'How do you do, fellow kids?' GIF? Is this her new vibe for 2017? God help us.
http://giphy.com/gifs/hello-steve-buscemi-30-rock-ifxLK48cnyDDi
Oof.
DailyEdge is on Snapchat! Tap the button below to add!