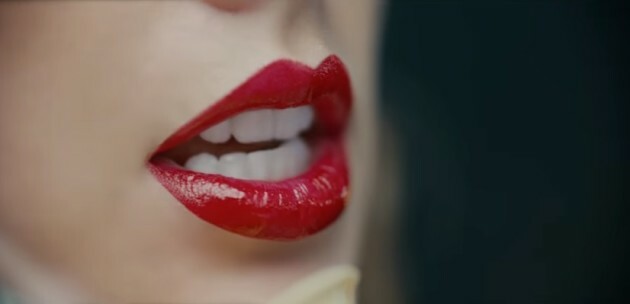 Vevo Vevo
"I'M SORRY, THE old Taylor can't come to the phone right now. Why? Oh, 'cause she's dead."
When Taylor Swift's Look What You Made Me Do dropped last Friday, this single line was the most ridiculed, talked about and praised line in the whole song.
Her fans said it was iconic – Taylor was going to the dark side in a war against her haters with a new persona. Everyone else thought it was a bit embarrassing and cringey, at best.
She changed her Instagram to a snippet of the line, too

It was generally accepted that the "old Taylor" was gone and that we were being introduced to a new goth Swift in the process
Vevo Vevo
The hidden insults in the song have been analysed to death, but a new theory on Tumblr might puts forward a new theory on the "oh, 'cause she's dead" line. As is often the case, it all goes back to the feud from last year with Kanye and Kim.
Following the revelation on Kim's Snapchat, this mural popped up in Melbourne along with the hashtag #taylorswiftisoverparty across the globe – to celebrate her supposed "death" after being caught out
The "Smith" was an intentional typo designed to ward off "the pending defamation lawsuit", as the BBC reported at the time.
On Tuesday, this Tumblr user linked the death joke to the lyrics in Look What You Made Me Do and went viral in the process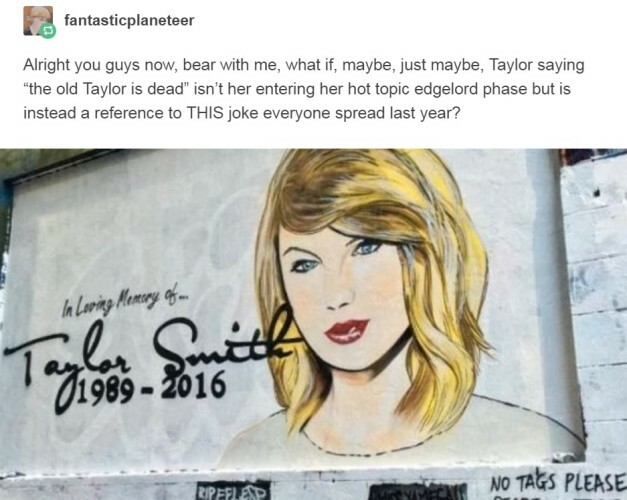 fantasticplaneteer.tumblr fantasticplaneteer.tumblr
Alright you guys now, bear with me, what if, maybe, just maybe, Taylor saying "the old Taylor is dead" isn't her entering her hot topic edgelord phase but is instead a reference to THIS joke everyone spread last year?
That runs against the general theory that it was an introduction to a new, darker Swift. Maybe she was just making an intentional reference to a massively viral meme at her expense?
After all, the video is chock full of references to all things Swift – why not have a dig at a very famous joke saying you were dead
Vevo Vevo
A self-deprecating joke is a lot better than a mortifying spoken word interlude re-branding oneself as goth.
Very plausible theory.
DailyEdge is on Snapchat! Tap the button below to add!