OVER THE WEEKEND, millions of people took to the streets to participate in the Women's March and the hundreds of solidarity events taking place worldwide.
Among those to take part in the demonstrations were high-profile celebrities like Rihanna, Katy Perry, Ariana Grande, Miley Cyrus, Amy Poehler, Emma Watson, Chrissy Teigen, Mindy Kaling, Lena Dunham, the Gyllenhaals, Charlize Theron, Natalie Portman and many, many more.
Conspicuously absent, however, was one Taylor Swift.
The singer, who has described herself as a feminist in the past, did not march and instead opted to send a tweet late in the day.
The tweet didn't sit well with many. Fans and critics alike accused her of taking a deliberately vague stance — "I'm proud to be a woman today, and every day" — and only hopping on the bandwagon once it became clear that it was a popular movement.
While others pointed out that Swift's tweet paled in comparison to those who actually, you know, walked in the march.
JustinOutsold / Twitter JustinOutsold / Twitter / Twitter
But why are people jumping down Taylor's throat? After all, it's not as if she was the only celebrity not to walk in the marches.
Firstly, Swift has been accused of co-opting feminism to suit her own agenda, but not being particularly intersectional or inclusive.
Additionally, many resent Swift for remaining neutral in the recent presidential election. While many celebrities endorsed a candidate, Swift remained curiously mum with the exception of sending a tweet on November 8th encouraging people to vote.
Given the highly contentious nature of the Trump/Clinton election, many felt that Swift was taking the easy way out by not weighing in one way or the other.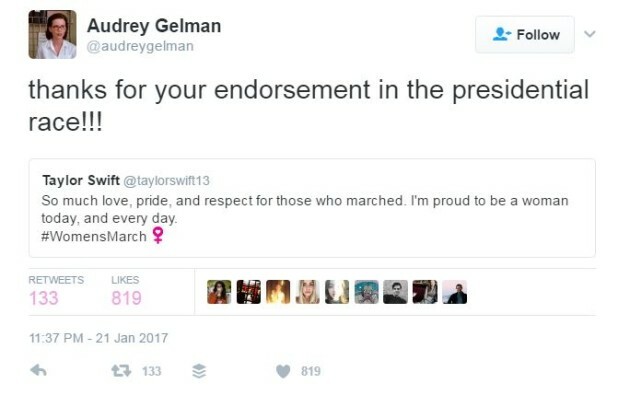 Audrey Gelman / Twitter Audrey Gelman / Twitter / Twitter
One reason why Taylor Swift might be keeping her political views to herself is so she can maintain her fanbase. Swift started out as a country star and likely fears alienating fans of a different political persuasion to her.
Fans like Donald Trump, for instance. (Eek.)
But many have argued that someone of Swift's stature can't claim to be politically neutral and a self-proclaimed feminist as both stances are completely at odds with each other.
And when your peers are out with their boots on the ground, there's really no excuse for staying on the sidelines.
You can't take it upon yourself to be a voice for "young women" when Kanye West insults you or preach female solidarity in the face of criticism from Nicki Minaj and then be like, "Er, I'm gonna sit this one out," when it really matters.
In other words? Taylor might want to walk the walk if she's going to talk the talk.
DailyEdge is on Snapchat! Tap the button below to add!