YESTERDAY WE BROUGHT you news that the one thing our entire nation had wished for had happened.
That's right.  Chocolate with crisps in it.
Not just any old crisps either, it had to be Tayto cheese and onion of course.
Today we have managed to physically get our hands on the elusive bars (they're not actually elusive, they're available in shops now), and we're ready to tell you what we think
First of all, here's what it looks like.  From the front, it's an ordinary bar.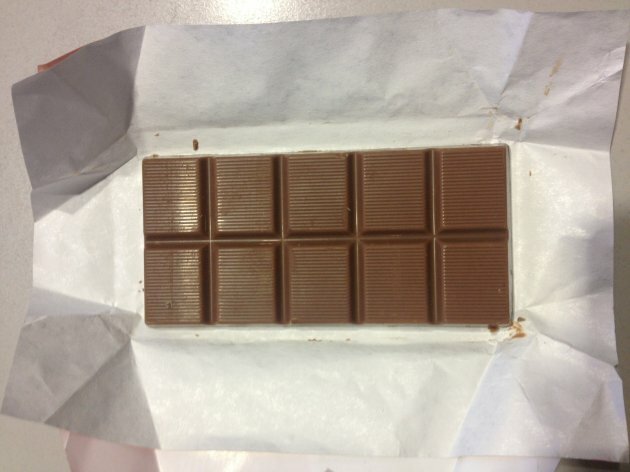 From the back, however, you can see the crispy goodness inside.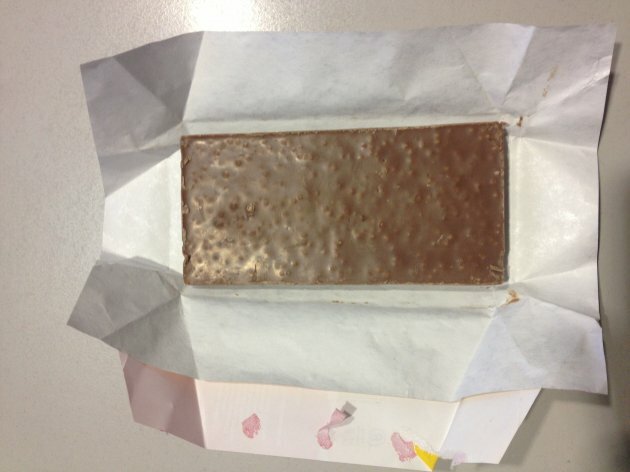 As you can see from the picture, the crisp bits are very small therefore the eating experience is not quite as crunchy as one might expect.
But what about the taste?  The chocolate is quite smooth, and the cheese and onion comes through quite distinctly as an aftertaste rather than being obvious while you're actually eating it.
But don't just take my word for it.
Here is a sample of comments taken from the tasters of DailyEdge.ie HQ.
Any chance of some salt & vinegar ones?
Not enough crisps.
It has the texture of a Nestle Crunch, but an aftertaste of the cinema. I like it.
It's fine until you swallow. Then everything changes.
It tastes like Sunday afternoons spent playing pool in a pub.
It didn't taste as overpowering as I expected in fact each square had a slightly different but unmistakably Tayto-y taste. I really liked it and would probably eat another one. Wow.
It gets worse the more you eat it but I have still eaten it all.
The first bite is a bit sharp, but it gets better.
There you have it.  An office divided.
Have you tried it yet?  What do you think?