Welcome to Skin Deep with Louise McSharry, my opportunity to put years of obsessing over beauty products and techniques to good use. I won't tell you something is good if it's not. I won't recommend products I haven't actually tried. I will do my best to make this a column you can rely on!

There are those in this world who seek to blame the Kardashians for all that ails us as a society. I am not one of those people. However, I do believe that the absolute insanity which has surrounded contouring over the last five years began with them. It's not that they invented contouring, but they certainly brought its heavy usage into the mainstream. The truth is, women have been at it for centuries, and drag queens have been perfecting the current techniques for decades. I'm not sure where I first read about it, but I've been using bronzer to darken the hollow of my cheeks (or occasionally to create a hollow in my cheeks, depending on what shape my face has taken at the time!) since I was about seventeen.
At its core, that's basically what contouring is. Darkening the bits of your face you want to sink, and lightening the bits of your face you want to stand out. Alas, these days, you'd be forgiven for thinking you need some sort of degree in mathematics to get involved with contouring, such is the elaborate carry-on seen in YouTube tutorials.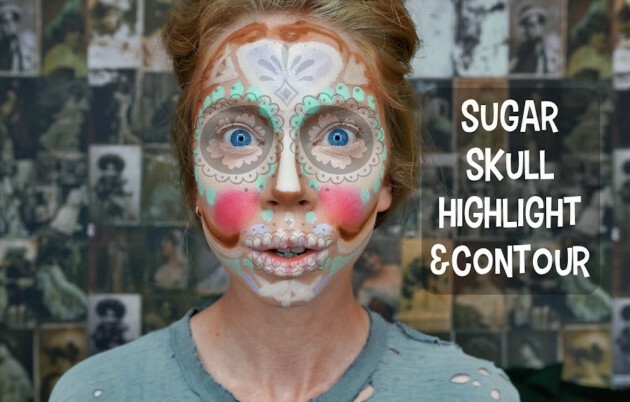 YouTube / grav3yardgirl Come on now, this is just insanity. YouTube / grav3yardgirl / grav3yardgirl
There's the clown contour. The sugar skull contour. Tiger contouring. Henna contouring. DARTH VADER CONTOURING!  People have gone absolutely stone mad with it, and I know that there are lots of makeup wearers who find the practice massively intimidating as a result.
The truth is, it doesn't need to be that complicated, and for most people, that's simply too much makeup for day to day life. In truth, you can give your face a structural boost which doesn't involve seventeen products in seventeen different colours and several hours of your time. All you need is something a little darker than your natural skin tone (usually a bronzer), and something a little lighter (usually a highlighter).
Fortunately, lots of brands are making things really easy for you by packaging the two things together. Unfortunately, some of them are still getting it wrong by making the bronzer sparkly or too orange, which is a no-no for this. You want something totally matte and more brown than orange. As far as the highlight goes, it really comes down to personal preference. Some people simply want a little gleam, others want to look like a sparkly robot. (Evidence of this: My brother recently asking me if there was some trend happening where young women were painting themselves silver.)
Charlotte Tilbury Charlotte Tilbury's Filmstar Bronze & Glow Charlotte Tilbury
My personal favourite of these products is Charlotte Tilbury's Filmstar Bronze & Glow. It comes in light/medium and medium/dark, and I find the light/medium excellent for my pasty complexion. It is pricey, at €65, but I've had mine for two and a half years and it's still going. The highlight in this palette provides a relatively subtle sheen, essentially making you appear as though you are bathed in candlelight, which let's be honest, is how we'd all like to be lit 24/7. Tom Ford's Shade & Illuminate is also gorgeous, but if you don't have money to burn, Sleek do a very good version of this product for less than a tenner. It comes in three shades, and the dark edition is actually dark enough for non-white skin, according to my advisers.
You can also buy your products separately, too and you don't necessarily have to use a bronzer. Another option is to simply use a darker foundation or powder, or indeed one of the many cream contouring products that are available now. When it comes to highlight, there are countless options these days. Every brand has a few on the go, and in my opinion, it is not something that you need to spend money on. Pharmacy brand Makeup Revolution (which is very good in general) have a huge range and they are excellent in colour and formulation.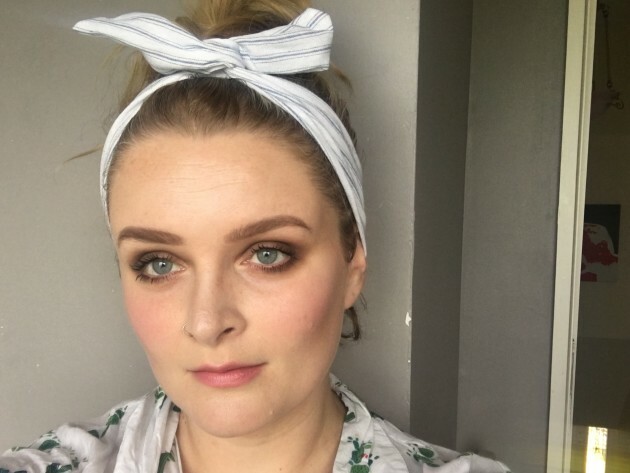 Louise McSharry Me, with basic contouring. No clown stripes required. Louise McSharry
Once you've chosen your products, all you need to do is suck in your cheeks and apply the darker shade in the hollows. I use this Real Techniques contouring brush and then buff out the edges with whatever medium sized powder brush I pick up (more on brushes next week). The buffing is the most important bit, in my opinion, otherwise you can end up with literal stripes on your cheeks and no one wants that. I also buff in a bit of the darker product along my hairline just to warm my face up a bit. Then, I apply my highlight on the top of my cheekbones using my fingers if it's cream, or a small brush if it's powder. I then curve the highlight around my eye in a 'C' shape, finishing just above my eyebrows.
That's it. That's basic contouring. You can get more fancy, of course, but that will emphasise your cheekbones and make your face look a bit more structured without making you look like you're wearing a mask of someone else's face. Go forth and contour.
New Product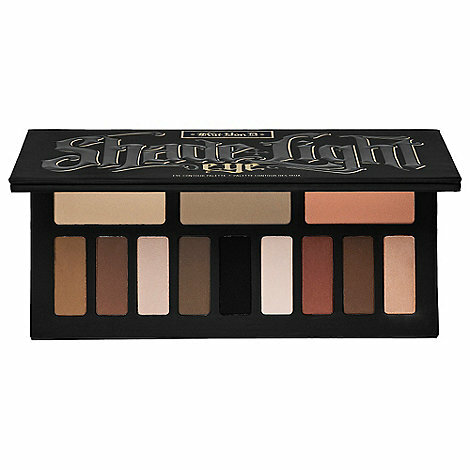 Debenhams Debenhams
This isn't so much a new product as it is new access to lots of products. Kat Von D's range has been available online via Debenhams for a few months, but now you can actually go and look at the products in select stores. My faves are Studded Kiss lipstick in Bachelorette, Shade and Light Eyeshadow palette, and the wildly popular 'Everlasting' liquid lipstick range.
DailyEdge is on Snapchat! Tap the button below to add!