EVERY WEEKDAY MORNING, DailyEdge.ie rounds up the best of the day's celebrity news from the top to the very bottom.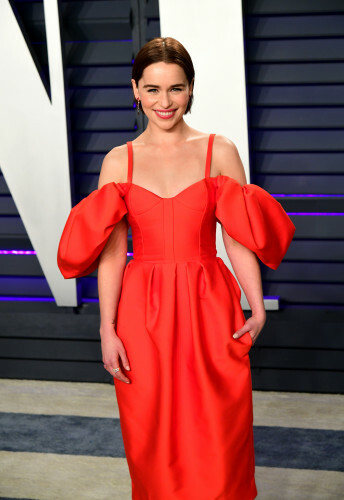 Ian West Ian West
Emilia Clarke opens up about the health struggles that left her wanting to 'pull the plug' 
Game of Thrones star Emilia Clarke has opened up about a health scare she experienced eight years ago.
Writing in  The New Yorker, Emilia spoke of how she underwent surgery after she experienced her first aneurysm in 2011 at the age of just 24.
She says she was working out before she started getting severe headaches, eventually collapsing in the toilet with "shooting, stabbing, constricting pain".
Emilia says eventually her doctors diagnosed her with subarachnoid haemorrhage (SAH), a condition which one in three of those diagnosed die from.
Her surgery resulted in a temporary language impairment that left the budding actress terrified.
"My job—my entire dream of what my life would be—centered on language, around communication. Without that, I was lost," she wrote in The New Yorker.

"In my worst moments, I wanted to pull the plug. I asked the medical staff to let me die."
Two years later, Emilia underwent a second surgery after experiencing another aneurysm.
Nearly six years on and Emilia say she's now recovered beyond her "most unreasonable hopes".
Wes Nelson is apparently 'secretly dating' Instagram star Lissy Roddy after the pair met here in Dublin last week
The newly single Love Island star has been a firm fixture in the headlines over the last few months after his appearance on Dancing on Ice and very public split from Megan Barton Hanson.
But it seems the reality star could potentially be moving on and with one of our favourite gals from the gram.
Last week, Wes and fellow Love Islander Josh Denzel flew into Dublin for an event with Nasty Gal – an event Lissy Roddy was also at.
According to reports, the pair hit it off and with rumours Wes was shifting a brunette while out in Manchester last week, people are putting two and two together.
Whether they are getting four or not is yet to be seen.
Lady Gaga is being romantically linked to a Hollywood leading man… and no it's not Bradley Cooper, ffs
Ever since starring in one of the biggest films of last year, people have been shipping the on-screen couple something fierce.
However, with Bradley Cooper happily married and a proud dad to their daughter, and Lady Gaga in her own committed relationship at the time, we knew the chances of hearing an announcement were slim to none.
But, with Gaga now back on the market, she's being linked to another leading man.
According to reports, the singer has been hanging out with Jeremy Renner as of late and her Little Monsters are already digging up proof.
One fan shared footage of Gaga performing in a jazz bar in Los Angeles last week, and says that Jeremy Renner can be heard in the background.
From trying to figure out if it's Renner's voice to how the pair might have met in the first place, there are a lot of questions about this rumoured couple.
And all of today's other celebrity dirt…
DailyEdge is on Instagram!