EVERY WEEKDAY MORNING, DailyEdge.ie rounds up the best of the day's celebrity dirt – from the top to the very bottom.
#LET ME, ER, ENTERTAIN YOU? Robbie Williams made no friends at a swanky music biz dinner last night, making jokes about Jimmy Savile and calling a BBC DJ a b***tard.
Williams was speaking at the Sony Radio Academy Awards when he said that the only celeb he recognised at the event was himself.
He also said that most of the people in the room "looked like the stars of Operation Yewtree 2014″, referring to the investigation into allegations against Savile and other celebrities. (Mirror)
Williams called BBC radio DJ Nick Grimshaw a "b**tard" after Radio One banned his single Candy. Grimmers said that Robbie was "too old" to be releasing that kind of music. Ouch.
Someone needs a hug, stat.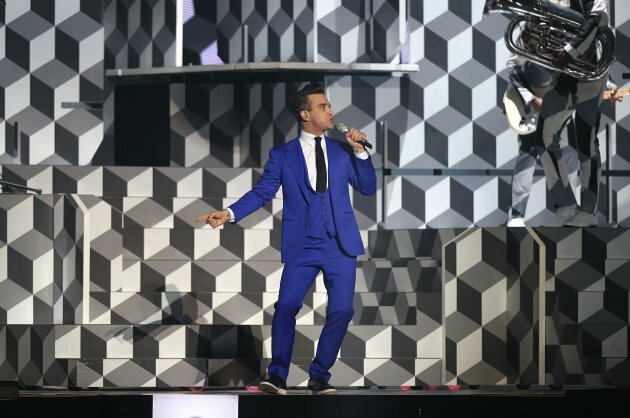 Will someone please buy some Robbie Williams tickets before he goes back on the kebabs? (Suzan/Suzan/EMPICS Entertainment)
#YOU GIVE THIEVES A BAD NAME Bon Jovi and Justin Bieber have been robbed!
A gang in Johannesburg have made off with more than €80,000 after both acts played two consecutive nights at the Soccer City stadium.
It's thought the robbers spent a few days chiseling through walls at the stadium to reach the cash. (BBC)
This is terrible news! Who's going to pay for Jon Bon Jovi's dad rock haircuts and Justin Bieber's preposterous trousers now?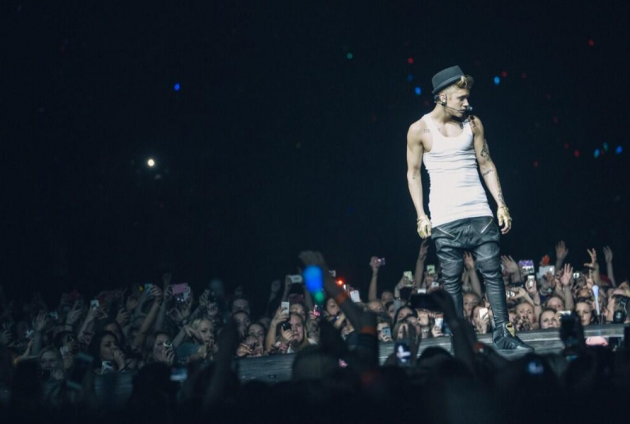 "Does anyone have a euro for a packet of Chipsticks? (Justin Bieber/Twitter)
#ANGELINA Angelina Jolie has revealed that she's had a double mastectomy after genetic testing revealed that she's was at high risk of developing breast cancer.
Jolie, whose mother died from ovarian cancer at the age of 56, is a carrier of the BRCA1 gene.
The actress, who has six children, underwent the treatment in secret over the last few months. (New York Times)
We've been firmly Team Jen for so long, but we're loving Ange right now.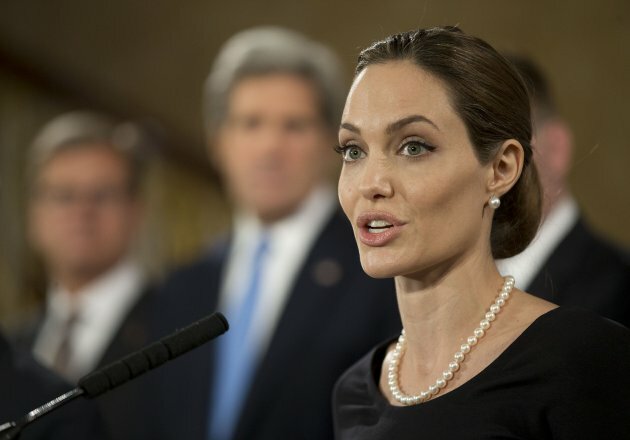 Alastair Grant/PA Wire
And the rest of that day's celebrity dirt…
Amy Huberman, Kathryn Thomas and the Seoige gals were among the Irish slebs at the Beyoncé concerts at the weekend, twerking away (Irish Independent)
Meanwhile Beyoncé's Da is in hot water over some unpaid tax. Bills, bills, bills (TMZ)
Kiera Knightley is on honeymoon with her new husband, James Righton from Klaxons (remember them? Total hipsters) (Daily Mail)
Want to see Jennifer 'Luminous' Lawrence's early modelling pics? Of course you do (Us Weekly)
Chantelle Houghton has had another go at her ex, Alex 'Sex Dungeon' Reid. He's never going to live down the sex dungeon, is he? (Sun)
Miss yesterday's Dredge about Beyoncé and the Irish flag? Here you go…