ALMOST 40 YEARS have passed since Jack Clayton's The Great Gatsby, starring Robert Redford and Mia Farrow, was released in 1974.
Baz Luhrmann's version, with Leonardo DiCaprio as the mysteriously suave/suavely mysterious J Gatsby, is the sixth incarnation of the F Scott Fitzgerald book first published in 1925. Having put his unique, kaleidoscopic stamp on Rome & Juliet [also starring DiCaprio] in 1996, Luhrmann swoops us back and forth over Manhattan and Long Island, deep into the bowels of toiling squalor and cast-of-thousands parties in high society.
Shawn 'Jay Z' Carter is on board as a producer and was given the go-ahead to drape an R&B flavour to the jazz-era, prohibition masterpiece that deals with an untainted love amid excess and greed.
Tobey Maguire is perfectly cast as the film narrator, Nick Carraway, a World War I veteran that comes to Manhattan in an effort to pitch himself into the money vortex of stocks and bonds that are the lifeblood of a rapidly sprawling metropolis.
'No sir, Wall Street will never crash.'
He moves out to West Egg in Long Island in a holiday home dwarfed by the lavish mansion of his next door neighbour, the rarely seen but oft talked about J Gatsby. Across the water lives his cousin Daisy (Mulligan) and her moneyed husband Tom Buchanan (Joel Egerton). Married for almost five years and parents to a young daughter, a ringing phone and hushed, angry tones from Tom soon make it clear that, despite their palatial surrounds, the union is far from blissful.
Nick's 'second time ever I was drunk' gives him a glimpse into the double-life led by Tom and many others in a city teeming with opportunities and temptation.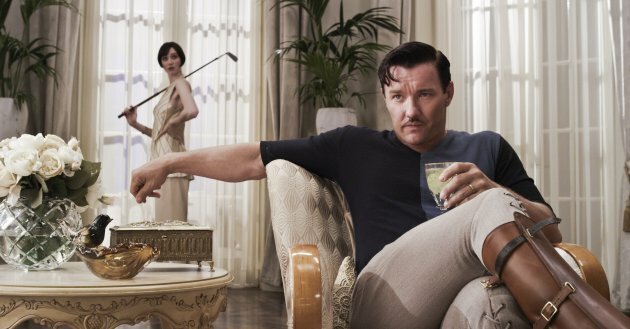 Tom Buchanan (the excellent Edgerton) spends his days reliving former glories and his nights seeking out new ones.
Embracing the seemingly never-ending supply of party invitations and topped-up champagne glasses, Nick finds himself at one of Gatsby's weekend blitzes and is befriended by the host. Nick, an aspiring writer, develops a queer friendship with his wealthy neighbour, one borne out of curiosity, loyalty and awe.
There is more to Gatsby than meets the eye and a connection to Nick's cousin Daisy hints at a past that has long lain obscured by the best that money can buy.
A scene that plays out in the aftermath of another wild party at Gatsby's residence sums up the titular character's drive to win back his lost love.
Nick: I wouldn't ask too much of her. You can't repeat the past."

Gatsby: Can't repeat the past? Why of course you can… I'm going to fix everything just the way it was before. She'll see.
DiCaprio, a 21-year screen veteran at this stage, has developed into one of the finest actors of his generation and plays the role of Gatsby as a man one cannot help but like without ever fully trusting him. Most of the grandest scenes are his reserve but he is superbly aided by Maguire and Edgerton. Mulligan is not overly indulged when it comes to screen time and the film could do with a touch more of the requited-then-unrequited love tale from her perspective.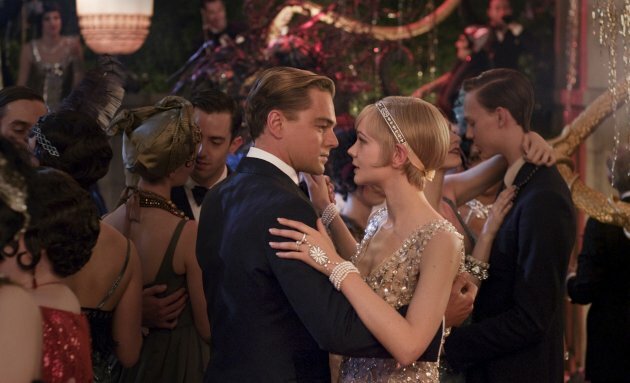 Gatsby and Daisy, alone in a crowd of thousands.
An area of potential divisiveness arises from the Jay-Z inspired soundtrack that laces in hip-hop and R&B songs such as 'Izzo' and Alicia Keys' 'New York' with  jazz and blues riffs. The music occasionally borders on self-indulgent but, after the opening scenes, work nicely with an ambitious and grand movie. 3D is an added extravagance but works best when the camera swoops through cityscapes and the raucous party scenes reminiscent of a Moulin Rogue frenzy.
Maguire is the glue that holds The Great Gatsby together and, indeed, it is is character that seeks to hold together the life of a friend that is too good to be true.
Verdict
The sixth, and finest, Gatsby to hit our screens in the last 90 years. The Redford/Farrow version remains a classic but, as Carraway bellows near journey's end, 'You're worth the whole damn bunch put together'.
All pictures courtesy of Warner Brothers.