DON'T @ ME right now, I can explain.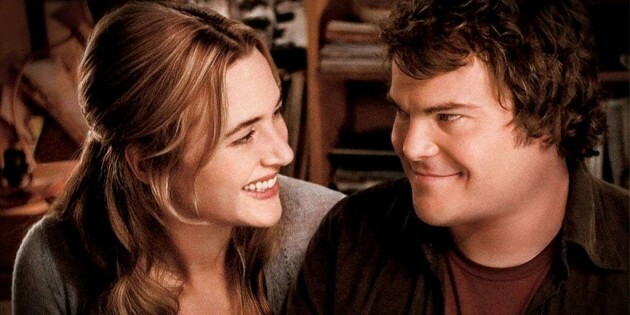 Universal Pictures Universal Pictures
With The Holiday dropping on Netflix last week, I sat down to re-watch it for what feels like the millionth time.
Yes, like most people, the movie is nothing new to me and unusually, I've grown to enjoy it more and more every 12 months since it came out 12 years ago. 
But there is one part of the film – one fundamental part – that just doesn't sit right with me and that is the deeply flawed relationship between Kate Winslet's Iris and Jack Black's Miles.
And over the next six points, I'll explain why.
1. Miles dismisses Iris for the entire movie until he's alone
Despite Iris' fairly obvious interest, Miles pretty much keeps her at arms length for the entire movie, just using her to make himself feel better about his shoddy relationship with Maggie. Dishing out weak compliments about her being only the good notes in a piece of music or something like that, he really did nothing to help Iris out, which is one of only two reasons we're watching this film.
never2purple / YouTube
2. Iris's character is longing to find confidence and a feeling of self-worth
In the first part of the film, we see how Iris has lost a hold of her self-belief and measures herself only by the attention Jasper gives her. Her trip to LA was to pull herself out of that funk, learn to stand on her own two feet, and enjoy who she is… alone. Therefore, a budding romance with Miles seems to defeat the whole purpose and dismiss the idea that she could find contentment without a romantic partner. 
MaRLoN MoU / YouTube
3. Miles does nothing when Iris literally crumbles in front of him
When consoling Miles on his broken relationship with Maggie – a role she takes on multiple times throughout the film despite her own heartbreak – Iris takes a brief moment to compare it to her situation. For two whole minutes, Iris describes the emotional pain she's been suffering as a result of the breakdown of her relationship with Jasper. She speaks about the deep hurt and betrayal she feels, the guilt and blame she places on herself for it, and the new people in her life (eh, including you, Miles!) who helped 'little pieces of her soul come back'. 
Now, that's just about the most heartbreaking and touching thing a person can say and what does Miles do – sit there. Silent. Useless.
Nate Skate / YouTube
4. Miles has the worst table manners ever and Iris deserves better
If there is one thing I hate, it's someone using their phone while out for dinner. If it's necessary or urgent, sure thing. Fire away – nip outside and take your call. If not – put that shit on silent.
Not only does Miles take a phone call from his shady girlfriend while sat with Iris, he tells her that he's "a bit tied up" like he's stuck in detention and he doesn't want her to know. Then Miles decides to ditch Iris (and Arthur's award ceremony, mind you) to meet up with said shady girlfriend, makes a number of nudges that he's in a rush until Iris tells him to get going and that it's all fine, even though it's clearly not. And to top it off, she foots the bill without as much as a 'thank you'.  
Sorry – I think I blacked out there for a second.
MaRLoN MoU / YouTube
5. Miles totally steals Arthur's limelight
The true love story at the heart of The Holiday is the one between Iris and Arthur. The two characters found in each other what they had been missing for so long – respect, kindness and real conversation. And when Iris had another emotional moment speaking about Jasper while out for dinner with Arthur, he didn't just sit there. Silent. Useless. He consoled her, reinforced what little self-confidence she had left and then paid her one of the most gorgeous compliments ever.
In the movies, we have leading ladies and the best friend. You, I can tell, are a leading lady but for some reason you're behaving like the best friend.
Arthur, you are too good for this broken world.
MaRLoN MoU / YouTube
6. There is just zero chemistry
At the end of the day, whether you agree with the above points on not, you have to admit that ultimately the pair just had zero chemistry. Iris and Miles' relationship was flawed but it was also that of two friends. The kiss at the end that's meant to be the reward for those who've become attached to the storyline was totally unrewarding because I really wasn't all that attached to their storyline. It was a distraction from other, much more fulfilling storylines. (Clearly a contradicting thought to the person who uploaded the clip below)
It's not that I wish Miles wasn't in the movie but more that he acted as the hype man that Iris clearly so desperately needed.
Vinod Sobale / YouTube
DailyEdge is on Instagram!