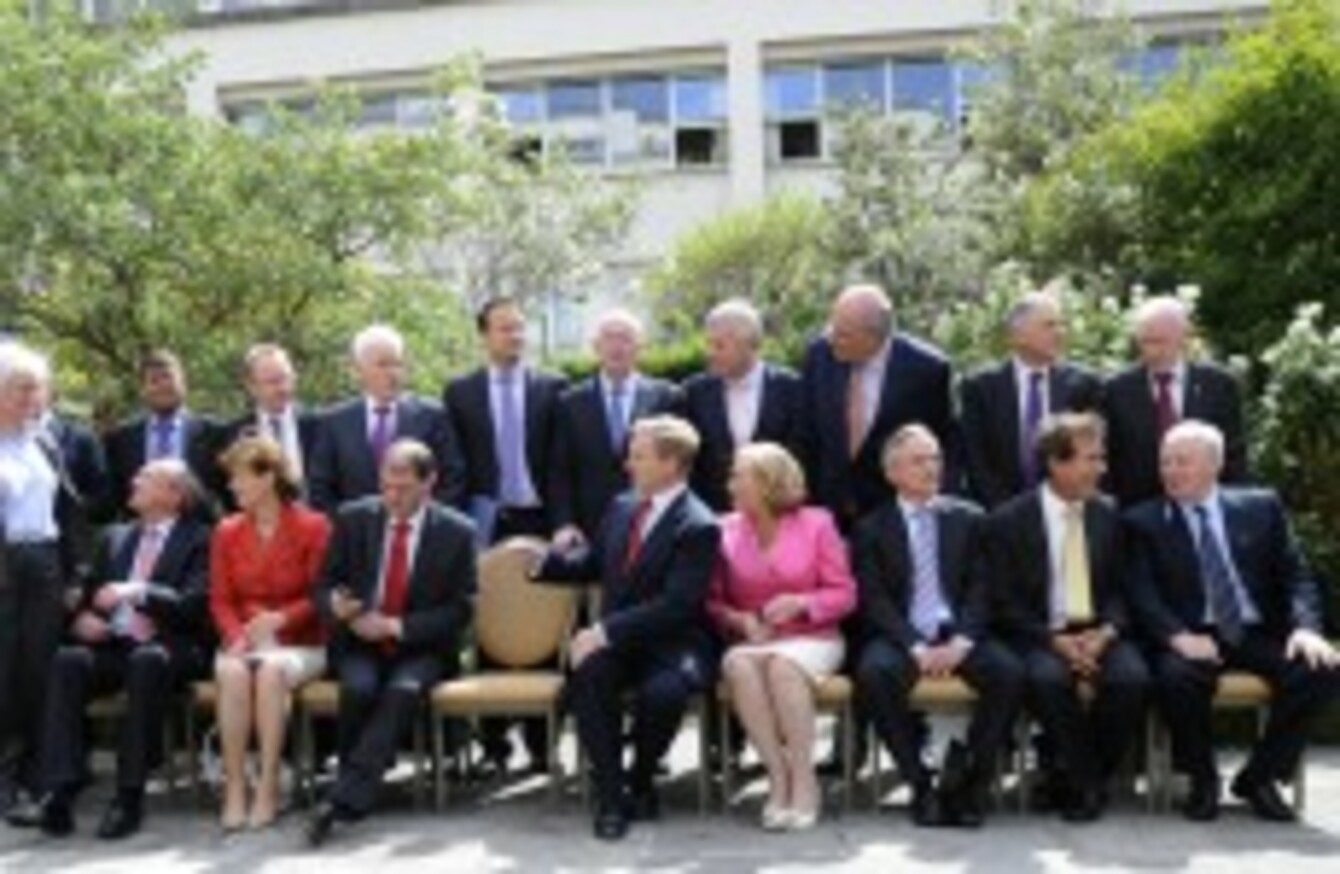 Is Enda #Eastwooding Minister Reilly?
Image: Sasko Lazarov/Photocall Ireland
Is Enda #Eastwooding Minister Reilly?
Image: Sasko Lazarov/Photocall Ireland
IS THE NEWS getting you down? Current affairs causing a frown? Satirical site The Mire has an alternative angle on the week's hot topics…
Govt 'chuggers' make life impossible for commuters
Monday, 27 August
Government chuggers are making life impossible for people going about their daily lives in Dublin.
"You can't walk down Grafton Street without being accosted by someone collecting for the HSE, the Department of Education or the Revenue Commissioners," a distressed shopper said.
"And you know just by looking at them with their fancy suits and highfalutin ways that most of the money goes on them," she added.
"Some of our senior civil servants have been collecting for the economy since the bailout," a Government spokesman said. "They do, of course, receive certain allowances."
Thousands of homeowners hoping for property tax windfall
Tuesday, 28 August
Thousands of Irish households are hoping for a windfall from the Government next year after it was revealed that a new property tax will be based on the value of their homes.
"It's the news we'd been hoping for," an ecstatic homeowner said. "I tried to sell my house last year but the estate agent said he wouldn't take it off my hands if I paid him."
"Due to building standards there's a good chance that any house built within the last 10 years will have a negative value," a property expert said. "Priory Hall is just the tip of the iceberg."
Minister for Finance Michael Noonan sighed as he buttered his Rich Tea biscuits.
Dope smoking kids with no schoolbooks could end up thick
Wednesday, 29 August
Children who smoke cannabis and whose schoolbooks have not yet been delivered by Schoolbooks.ie could end up being as thick as a ditch.
"We have learned through exhaustive research that smoking dope in your formative years makes you dopey," an expert said.
"If you compound the problem by not having any school books you're probably going to be as thick as a ditch," he added.
"You can still love your children, of course, but they won't be good for much."
HSE asks sacked carers to take their sick calls
Thursday, 30 August
The Health Service Executive has called on carers sacked due to austerity measures to voluntarily operate switchboards so that HSE staff can phone in sick.
"We have an urgent need for someone to get in there and take our phone calls," a HSE spokesman said from his sick bed. "And seeing as you're doing nothing…."
He said the carers should get behind the HSE to build a health service fit for purpose.
"Feel free to make yourself at home but don't use the kettle, lights or heating, we're trying to cuts costs you know," he added.
Clint Eastwood helps in search for Dr Brendan Reilly
Friday, 31 August
Hollywood legend Clint Eastwood posed beside an empty chair today to draw attention to the fact that Health Minister Dr James Reilly is missing.
It has not been possible to locate Dr Reilly since the HSE announced devastating cuts to homecare services on Thursday.
"We're very concerned for Dr Reilly, so is Clint," a HSE spokesman said.
Officials are concerned that Dr Reilly might think that he too could be cut by the HSE.
"We'd like to assure him that his position is safe as he doesn't provide an essential service," the spokesman said.
Minister Reilly has form in this area but usually shows up in the end.
Located safe and well
This seat is taken