WE ADMIT IT, we're quite convincing. When rumours were strife that Tina Fey and Amy Poehler were asked to host the Golden Globes again, we put forward eight reasons why it definitely should happen.
Well, we're not one to dismiss coincidences, but today comes the news we've all been waiting for.
According to The Hollywood Reporter, the comedy duo have agreed to return to host the awards ceremony for the next two years.
The Golden Globes were quick to confirm it on Twitter: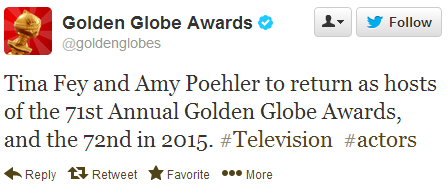 Producers were said to be eager to get the pair back, having received rave reviews and achieving a six-year high in viewing figures when they hosted it last year, with almost 20 million tuning in.
NBC president of alternative and late night programming, Paul Telegdy, said in a statement to Deadline that:
Tina and Amy are two of the most talented comedic writer/performers in our business, and they were a major reason the Golden Globes was the most entertaining awards show of last season. We're elated they wanted to host together again and that they committed for the next two years.
Poehler's rep had this to tweet: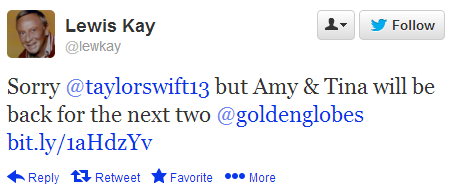 Poor Taylor.
TheFabulouslyFab
Fashionablethings Fashionablethings
It seems to have been a recent decision, with Poehler telling E! News just yesterday that she had yet to make a decision and there was "nothing to report yet" on the negotiations.
Wonder what swayed them…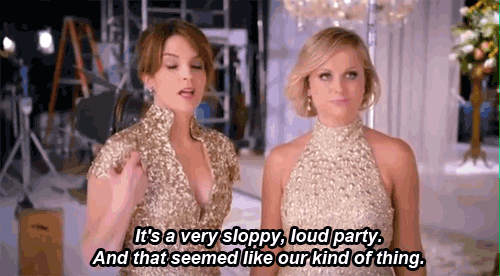 Tumblr Tumblr
The 2014 Golden Globes will air on Sunday, January 12.