TINDER HAS COME a long way. The dating app began with a reputation for casual hookups and unsolicited photos of the male genitalia.
Now, we're hearing of more and more longterm couples and love stories originating on the app.
This couple's, is like something from a fairytale.
Thomas Gallagher (he's not from Ireland, but it sure sounds like it) was swiping across Tinder while on a business trip in Chicago. He wrote on Reddit that he messaged a girl about a travel photo he saw on her profile, and they began having a chat.
The girl, named Grace, started chatting to him about work. Gallagher travels a lot to China for business, so he made a deal with her that he would take her to China if she took him to New Zealand.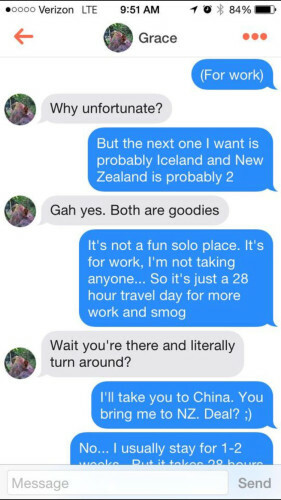 Imgur Imgur
Has anyone began writing the rom-com script?
The two clicked and continued messaging until they met a month later, with Thomas writing on Reddit that they both kept their word on the trip.
We have been flying to see each other each weekend for the past 6 months and landed in Beijing yesterday. We're booked for New Zealand in February.

Thomas / Vimeo
Gallagher told the Huffington Post that it's not a traditional love story, but it's a nice one all the same.
I didn't whisk her out of a burning building and save her life as an introduction. But we have the rest of our story to make up for that.
So, it's not all bad on Tinder:
She hasn't tried to murder me yet and still has not revealed any signs of being a bot. I honesty have not been happier.