This piece was first published in June 2012 ahead of the London Games but reproduced here for Ireland's official National Play Day. 
LONDON 2012 WAS almost upon us, and we had the Olympic torch tipping around Dublin, so during that excitement, we thought we'd try our hand at scoping out some events for a uniquely Irish Olympic games.
And today, to mark National Play Day, we've decided to have another go.
From high-jumping skills in Elastics, to the speed of Usain Bolt needed to be successful in Tip the Can, we know there are some champions out there.
Raise the tricolour, belt out Amhrán na bhFiann and get ready for the Irish Olympics. On your marks… get set…. GO!
Tip the Can
It's a game of speed, cunning, and some poor player stuck being 'it'. Tip the can has been played far and wide for many years (it's called Kick the Can in the US). The 'can' (or a plant pot, or gate pillar or whatever) is out in the open. Whoever is 'it' stands at the can, counting to 20, while the rest of the Olympians run off to hide.
When the counting is finished, 'it' goes on the hunt. Every person that is caught gets sent to 'jail', but if someone manages to 'tip the can' before being caught, they can free one of their comrades.
Swingball
Ping pong is an Olympic event, so why not Swingball? A challenging mix of strategy, tennis and hand-eye co-ordination.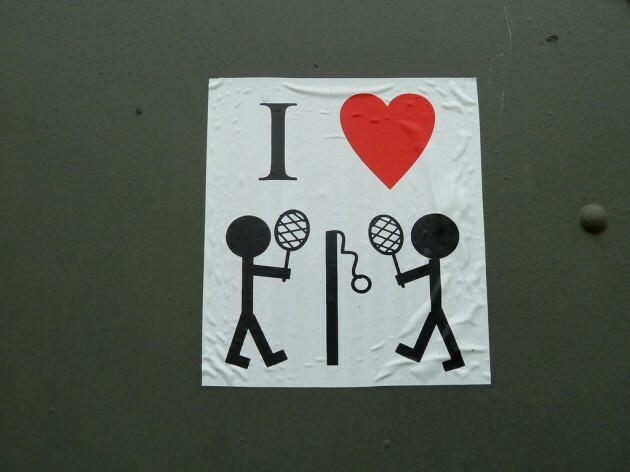 Jens Rost via Flickr/Creative Commons
Red Rover
Pretty much banned in schoolyards up and down the country, this Olympic sport is a test of strength, balance and brute force. Players form two lines, linking hands and facing each other, and one team calls a player from the opposing team:
Red Rover, Red Rover let Ann/Barry come over!
Over comes Ann or Barry at top speed, determined to break through the other team's links'. If they succeed they get to return to their own team, bringing one player back with them. If they fail, the other team claims them.
The last man (or woman) standing must try to break through the entire chain in order to bring another player back over to their side.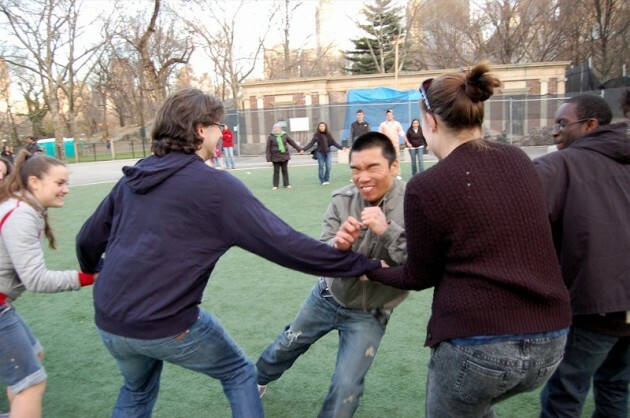 Maxintosh via Flickr/Creative Commons
Elastics
Among the simplest of disciplines, elastics requires a keen eye and a deft jump. It was an epidemic in playgrounds in the eighties and nineties, and surely some elite athletes are still out there, training and pushing themselves to the limit, just like these New Zealand champs:
topgun2311 / YouTube
Chinese burn finals
Who can inflict the most amount of pain with a simple flick of the wrist? Points are awarded for severity of the 'burn' and amount of menace in the eyes.
Keepy-uppies
Forget Euro 2012, Keepy Uppies is the pinnacle of footballing skill. The gold will go to the athlete with the most impressive techniques and longevity. If this guy qualifies though, he'll be a tough competitor to beat:
The Showbiz 411 / YouTube
Slow Bicycle Race
Sure, cycling with speed and skill over long distances or around a track is impressive and worthy of Olympic medals or world titles, but what about the forgotten sport of the Slow Bicycle Race? Take a look at these professionals at work:
patriciomorganti / YouTube
Kerbs
If you grew up in an Irish housing estate, chances are you've played kerbs. The rules vary from place to place but simply put you need two opposing kerbs and a ball. You need to stand behind your kerb and launch the ball, trying to hit your opponent's head on.
If you do, you get to progress to the centre of the road and you'll earn five points for every shot. If you miss, back you go as quickly as you can, because if your opponent hits you with that ball before you get back, they steal all of your points.
You can, as Fake Dog Films outline, use different techniques such as the Granny Throw, or the Basic. May the best man (or woman) win.
fakedogfilms / YouTube
Rope on a Lamp-Post
Still a familiar sight in some parts of Dublin city, and a sport requiring strength and bravery, Rope on a Lamp-Post athletes will gain points for the height and speed of their swing, and their ability to resist rope burns. Some competitors may also be taking part in the tyre-swing discipline, which will require them to perform a series of manoeuvres without getting stuck in the tyre.
An entourage of Olympians will pay their respects at the Mecca of Rope on a Lamp-Post, the statue near the Pepper Canister Church in Dublin city centre: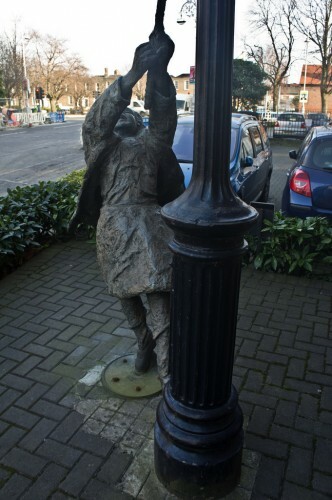 Images: (Top) Informatique via Flickr (Bottom) Google Maps
Hat tip to reader John Mack, who suggested in the wake of our Stephen Roche and Big Time bars eighties retrospective that TheJournal.ie should hold an Irish Olympics.
What other games should feature in the Irish Olympics? Or did you play these ones by different rules? Let us know in the comments section below