SOMETIMES A GOOD passive-aggressive note is your only man to get the job done.
That goes for kids, too. Take Imgur user judokitten, who wrote that her dad unearthed this letter she wrote to the tooth fairy as a little girl:
My dad found my passive aggressive note that I wrote the tooth fairy. It was better than I remembered.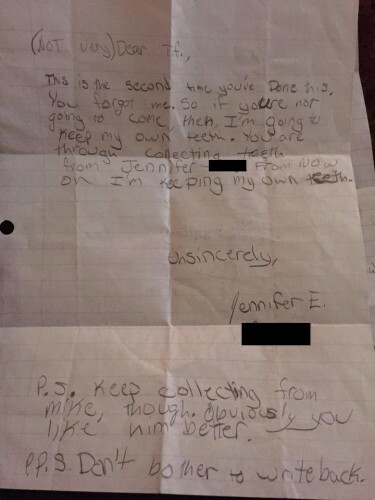 Imgur Imgur
(Not very) dear t.f.,

This is the second time you've done this. You forgot me. So if you're not going to come, then I'm going to keep my own teeth. You are through collecting teeth from Jennifer. From now on I'm keeping my own teeth.

Unsincerely,

Jennifer
P.S. Keep collection from Mike though. Obviously you like him better
P.P.S. Don't bother to write back.
Tumblr Tumblr