CUSTOMERS LOOKING FOR a bit of retail therapy in the Victoria branch of Topshop in London might need actual therapy after a swarm of bees targeted the shop this morning.
Baffled Londoners passing the shop tweeted photos of the gathering of honeybees against the shopfront window.
According to The Guardian, about 5,000 bees flooded to the spot after they were guided there by the Queen bee in central London. She picked the trendy spot for nesting and was quickly followed by her devoted colony, much to the hysteria of nearby shoppers.
One woman told The Evening Standard that she was stuck inside the shop for a half an hour.
All of a sudden there were thousands and thousands of bees flying around. You could hardly see the sky because there were so many.
PA Wire / Press Association Images PA Wire / Press Association Images / Press Association Images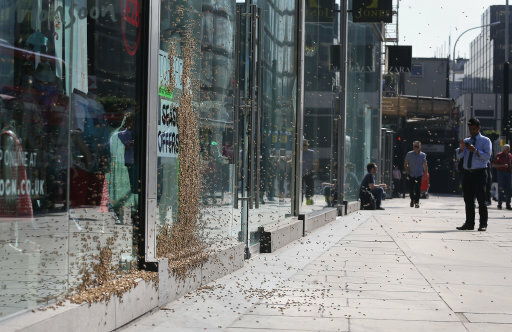 Luckily the John Lewis across the road employs a project manger that doubles-up as a trained bee-keeper and helped with the attempt to smoke the bees out.
Wearing a white beekeeping suit and hat, he said:
We have either had a virgin queen or an old queen. She has left the nest, and she has brought the swarm and settled on the shop front. We are going to smoke them into a box and encourage them to stay there. We will remove them later today.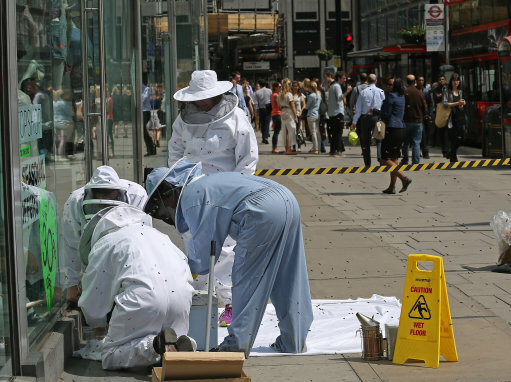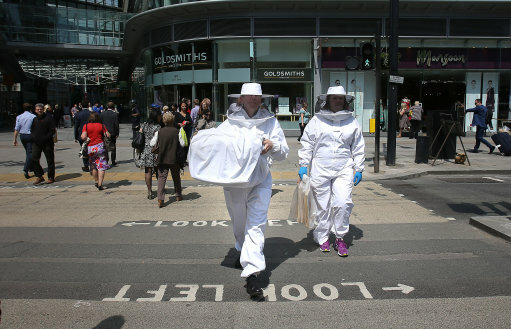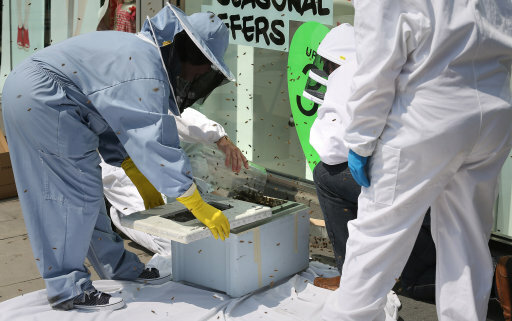 The colony were quickly moved across to Westminster cathedral to be looked after by beekeepers on the church roof.
Several shops in the area have their own hives so it's not certain where they originated from.
Ruth Dustion, CEO of Victoria BID says the bees were dealt with in a professional manner and weren't at all distressed.
We can't the same for fashion-seeking teens.