TRINITY ENTS HAS pulled a competition offering free tickets to see Chris Brown perform live in Dublin after it received complaints online.
The competition was announced on the Trinity College Dublin entertainment society's Facebook account earlier today and swiftly began receiving some complaints. The original post in question has now been removed.
Trinity Ents was offering two tickets for the Chris Brown show, which is scheduled for the O2 on 3 December.
However, at around 6pm this evening a new post on the Facebook page said:
Trinity Ents would like to sincerely apologise to anyone offended by today's competition. Trinity Ents does not endorse or condone violence against women and never has. Unfortunately, at the time of running our Chris Brown competition, we failed to appreciate that many students would consider a competition giving away tickets to his concert unacceptable.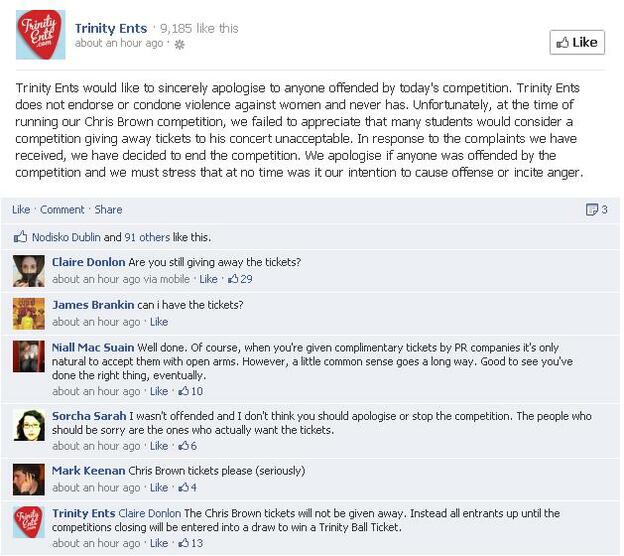 It also included a link to Cosc, the national office for the prevention of domestic, sexual and gender-based violence, on its page. Trinity College Dublin recently launched a campaign against sexual assault, called Don't Be That Guy.
Last week, Dublin band the Original Rudeboys turned down an invitation to support Chris Brown at his Dublin show, saying:
Even though it's a huge opportunity to play in the 02 with a major hip hop star and a substantial fee was offered, we are completely against Chris Brown's assault on Rihanna.
When Brown's gig was announced, there were questions over who was promoting it – with big name Irish promoters quick to say they had no part in putting on the live show. The show is being promoted by a number of promoters including Music Events Ireland.
TheJournal.ie could not reach Trinity Ents for comment this evening.