Time Last year's cover Time
PRESIDENT DONALD TRUMP'S Twitter account is getting him in all sorts of bother again.
Now he's in a dispute with Time Magazine over a claim he made last night that he "passed" on being its 2017 Person of the Year: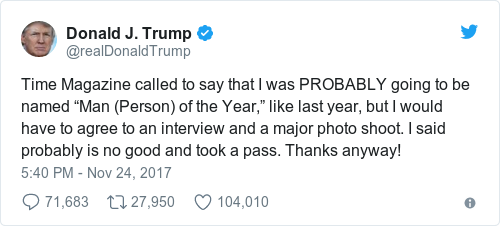 @realDonaldTrump @realDonaldTrump
Time responded on Twitter disputing his claim
Going by Trump's original tweet, people think there's a good chance he believes he's not going to win so is getting his excuses in early. The sheer entitlement of the line "I said probably is no good and took a pass" has seen the argument light up overnight – and there have been some seriously funny reactions:
1. Like Andy Murray completely taking the piss with this parody tweet
2. In fact, Trump's outraged wording has become its own little meme
3. It works in any situation
4. Mark Hamill is no longer interested because Trump has now "turned it down"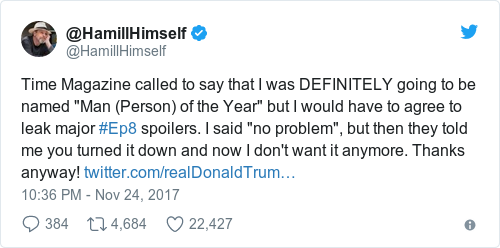 @HamillHimself @HamillHimself
5. Trump seems a bit obsessed with the award
6. The former Editor of Time had some bad news for the President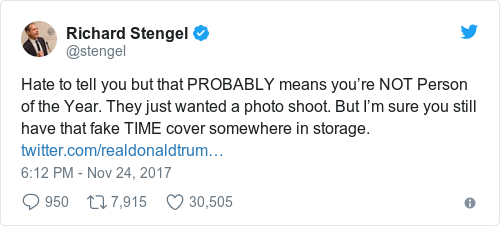 @stengel @stengel
Fake cover? It was reported in June that Time asked the Trump Organization to remove several fake covers featuring the president that were hanging in his golf clubs.
7. We're learning new things about history every day
8. People have been making other suggestions for who should get the award
9. Imagine the scenes on the President's Twitter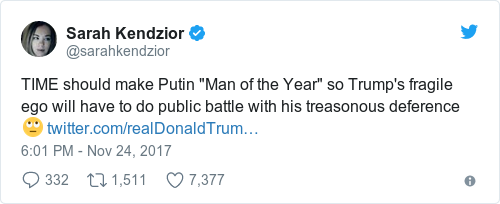 @sarahkendzior @sarahkendzior
10. It's like one of those lies you tell in school

@McKelvie @McKelvie
11. We finally have closure on the Blake Shelton thing though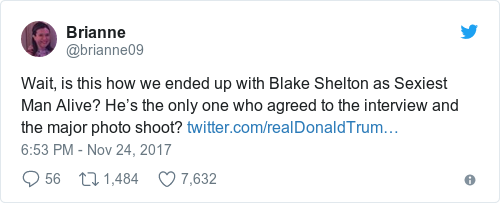 @brianne09 @brianne09
12. Could it have been a person claiming to be from Time?
13. Remember the front cover horn theory from last year
14. YOU CAN'T FIRE ME I QUIT
15. It hasn't been called Man/Woman of the Year since 1999, so Trump's brackets have been picked up on too
Why.
16. "Probably" is no good for Julia Louis-Dreyfus either
17. Or this very bad boy
The final word? Time's Chief Content Officer Alan Murray's response:
Amazing.  Not a speck of truth here
DailyEdge is on Instagram!