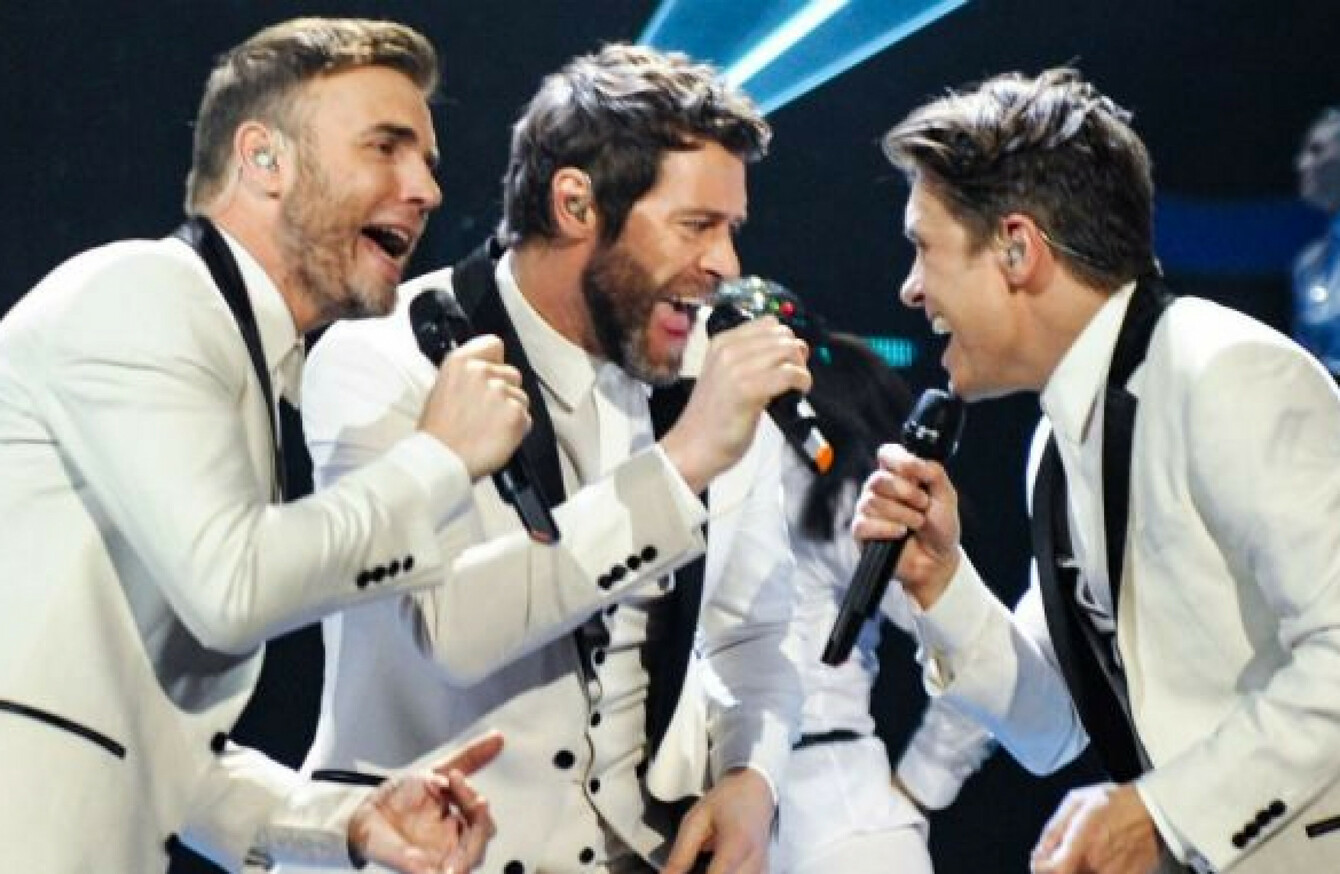 DailyEdge.ie rounds up the TV shows that you'll be tweeting about tonight and talking about tomorrow. 
Take That: We've Come A Long Way (BBC One, 7.00pm)
As Take That mark their 30th year, this programme celebrates one of Britain's best-loved boy bands, with help from fans from all over the world sharing their stories of how the group touched their lives. Robbie Williams rejoins Gary Barlow, Howard Donald and Mark Owen to share favourite memories, there's a glimpse of preparations for their anniversary album, and footage of them in the studio with Bee Gees veteran Barry Gibb.
That Was 2018 (Virgin Media One, 9.00pm)
A look back at the major stories of the year set to a soundtrack of the biggest hits, covering everything from extreme weather to the UK's Brexit crisis and the abortion referendum as well as a controversial rape case in Belfast and a cancer scandal.
A Question of Sport: Merry Quizmas (BBC One, 8.30pm)
A look back at some of the best festive moments in recent years of the quiz, with host Sue Barker, team captains Phil Tufnell and Matt Dawson, and a number of sports stars and celebrities.
Everyone's talking about: Black Mirror
Bandersnatch, Netflix's new feature length Black Mirror release, is interactive, meaning viewers will be able to decide the ending. Cool, right?
A description from the streaming service reads: "In this 80s-set, sometimes morally-compromising adventure, you alone are in charge of what happens next. The journeys you go on are a direct result of your decisions.
"There are choices to be made, challenges to overcome, dangers to encounter and, as always in life (and Black Mirror), consequences to be had. Choosing wisely could lead to triumph while taking the wrong path could end in disaster — but who's to say what's "right" and "wrong," anyway?
And fret not because once one experience comes to a close, you can — and should! — go back and make a new choice, alter the path of your story and maybe even change its outcome."
Source: Netflix/YouTube
Can't see the trailer? Click here.
Good luck getting Frankie Goes To Hollywood out of your head for the rest of the day.
Or flick over for…
Ben Hurr (RTÉ One, 9.30pm) Historical period drama, starring Jack Huston, Toby Kebbell and Rodrigo Santoro.
Harry Potter and the Deathly Hallows: Part Two (RTÉ Two, 6.15pm) Wrap up that marathon you started all those days ago.
Lock Up (Virgin Media One, 10.00pm) Prison thriller, starring Sylvester Stallone, Donald Sutherland, Darlanne Fluegel and Tom Sizemore.
Big Fat Quiz of the Year 2018 (Channel 4, 11.00pm) Another chance to test yourself on the year that was.
DailyEdge is on Instagram!