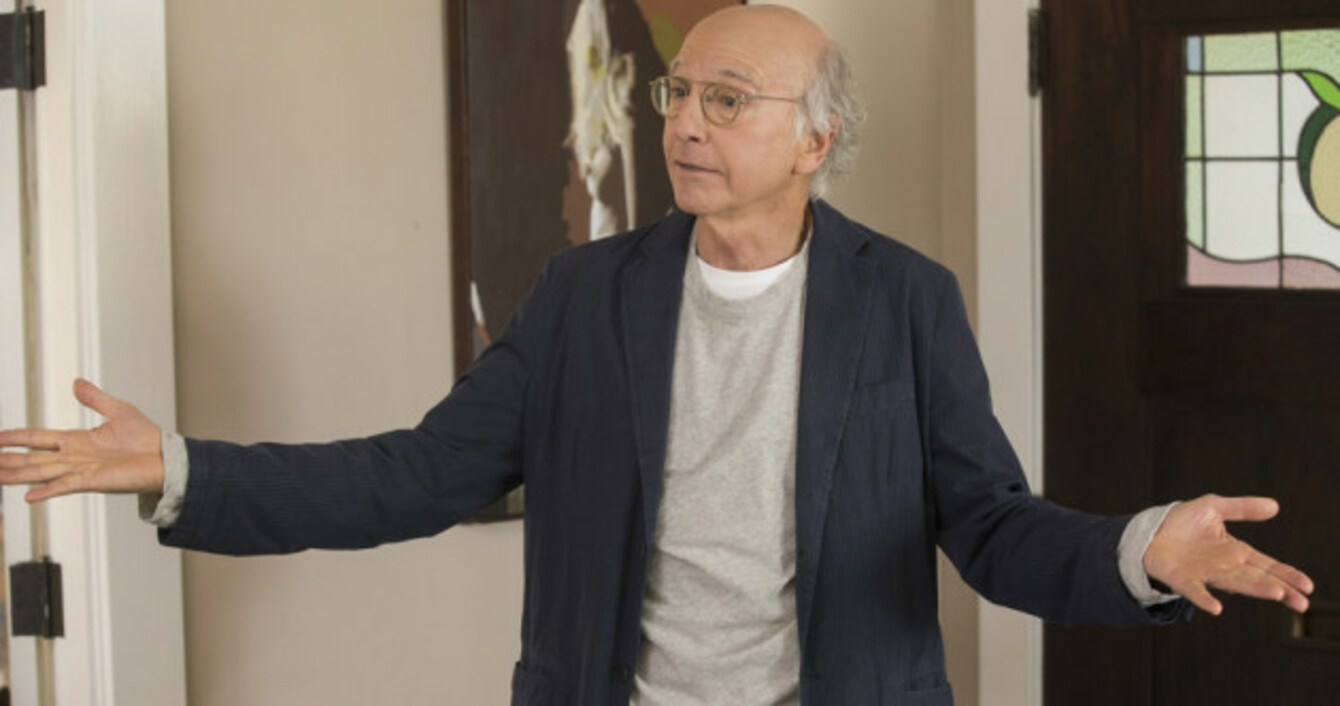 DailyEdge.ie rounds up the TV shows that you'll be tweeting about tonight and talking about tomorrow.
Curb Your Enthusiasm (Sky Atlantic, 10.00pm)
After six years Larry David returns with a much-anticipated new season of Curb Your Enthusiasm, the ninth overall. This opening episode sees Larry being his most Larry self as he tries to rid himself of an inept assistant, while he also offends Jeff's barber and gets into hot water over a new project.
Dermot Bannon And The Big Build (RTÉ One, 9.35pm)
No, it's not a reboot of the Harry Potter films starring our favourite architect (although we would absolutely watch that. This one-off special follows the redevelopment of the Royal College of Surgeons' building on St Stephen's Green in Dublin which sees it modernised from its prestigious 19th-century base to a bespoke 21st-century world-class training centre.
Annie Out Of The Ashes (BBC One, 11.45pm)
This documentary tells the heart-breaking but resolute story of an Irish traveller girl whose mother allegedly set her alight in a caravan when she was 4 months old. Annie Price was born of mixed race after her mother had an out-of-wedlock affair with a black British man. It was believed that these circumstances provoked the incident, but Annie Price is convinced there's more to what happened.

Everyone's talking about: Hugh Grant
The actor is returning to television after 20 years off the small screen.
Hugh will be starring in A Very English Scandal, a three-part BBC One drama that follows the real-life story of Liberal Party leader Jeremy Thorpe's desperate bid to keep secret his relationship with model Norman Scott.
The two were romantically involved in the 1960s, when male same-sex relationships were still a criminal offence. Fearing the revelation of their relationship could damage his rising political career, Thorpe tried multiple tactics to keep it private.
The drama.

Or flick over for...
The Fighter (RTÉ Two, 9.35pm) Mark Wahlberg and Christian Bale star in this powerful boxing drama.
The DaVinci Code (Sky One, 9.00pm) Thriller with Tom Hanks. Basically, the Vatican did it. Or did they?
Jeff, Who Lives At Home (TG4, 9.30pm) Comedy starring Jason Segel about a guy who becomes obsessed with a wrong number.
The Undateables (Channel 4, 9.00pm) Another episode of the most wholesome show on TV right now.
DailyEdge is on Instagram!