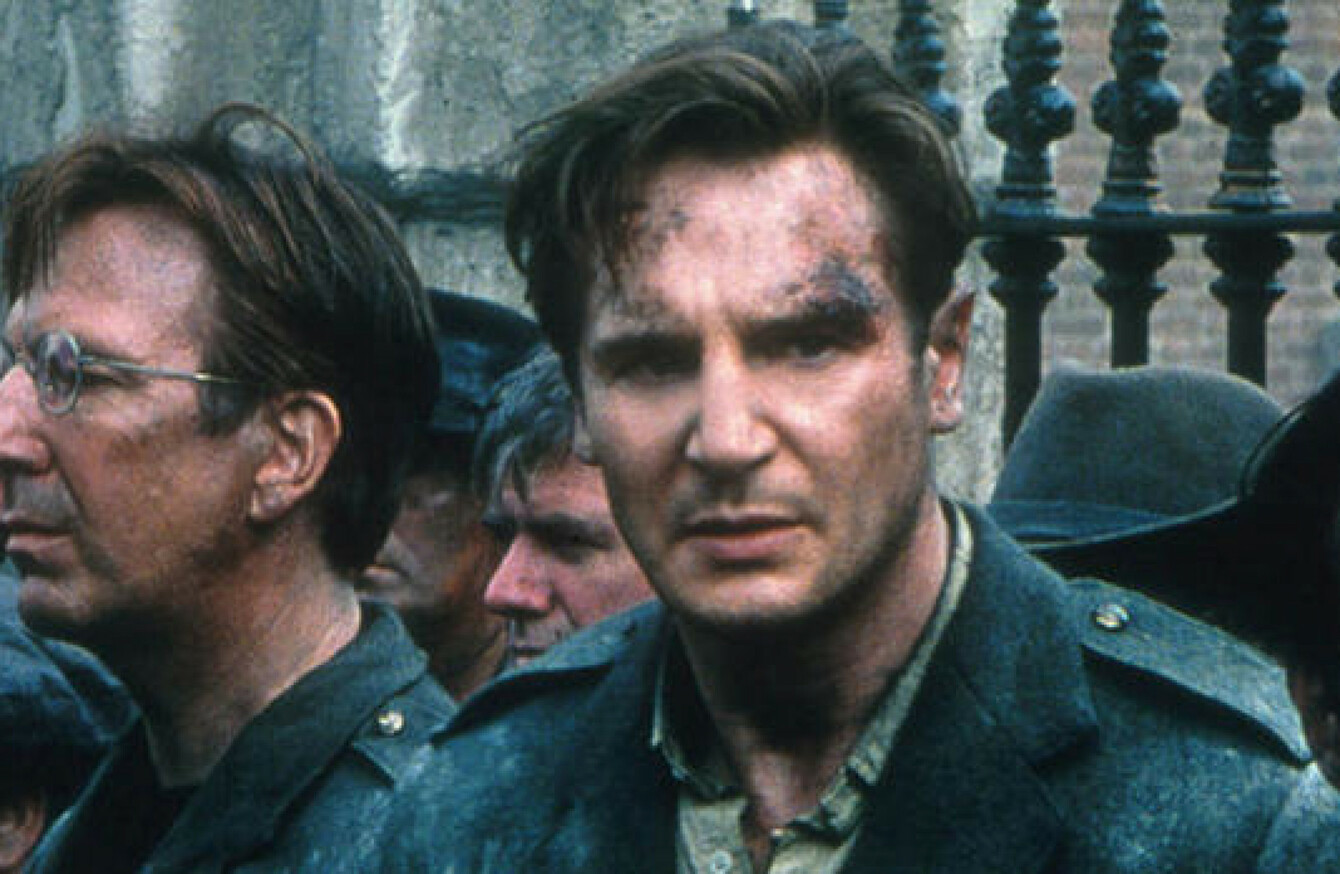 DAILYEDGE.IE ROUNDS UP the TV shows that you'll be tweeting about tonight and talking about tomorrow. 
Michael Collins (RTÉ Two, 9.30pm)
If you're looking for an injection of much-needed patriotism, look no further than this Liam Neeson flick. Fact-based drama focusing on the life of the Irish radical who rose to prominence after his involvement in the 1916 Easter Rising against British rule. He became a hero to his countryfolk before his single-minded determination to stick to his plans alienated him from his allies. Written and directed by Neil Jordan, and starring Liam Neeson, Julia Roberts, Alan Rickman, Aidan Quinn and Stephen Rea. Expect some dodgy accents, natch.
Birdman (BBC2, 10.30pm)
Is this a good movie? Or is this a bad movie masquerading as a good movie? The debate rages on. A faded movie star famous for his role in a series of superhero movies 20 years previously tries to reclaim his artistic integrity by directing and starring in a Broadway play. The experience plunges him into a personal crisis as both the production and his own family are beset by a series of disasters. Oscar-winning drama, starring Michael Keaton, Edward Norton and Emma Stone
Piers Morgan's Life Stories (TV3, 10.30pm)
Another chance to see Piers Morgan's interview with Caitlyn Jenner.  Looking back at her remarkable life, she opens up about her feud with her ex-wife and stepchildren in the Kardashian family, reflects on winning Olympic gold while simultaneously battling gender issues and discusses the death of her younger brother.

Everyone's talking about: Charmed
The CW announced this week that it has picked up a "fierce, funny, feminist" remake of the beloved 90s show, which will focus on three sisters in a present-day college town.
Holly Marie Combs, who starred in and produced the original series, has spoken out against the move.
Here's the thing. Until you ask us to rewrite it like Brad Kern did weekly don't even think of capitalizing on our hard work. Charmed belongs to the 4 of us, our vast amount of writers, crews and predominantly the fans. FYI you will not fool them by owning a title/stamp. So bye."
Yeah, don't expect her to be making a cameo anytime soon.

Or flick over for...
All Together Now (BBC One, 7.15pm) New talent show in which you can only win if the judges singalong with you. Ok.
Holocaust: The Revenge Plot (Channel 4, 9.00pm) Documentary, making use of previously undisclosed recordings and candid interviews to tell the story of a group of Holocaust survivors.
Warm Bodies (TG4, 10.50pm) A zombie has an unusual reaction to eating a man's brain - he begins to fall in love with his victim's girlfriend.
The Inbetweeners Movie (E4, 9.00pm) The lads are off on their 'ollibops.
DailyEdge is on Instagram!