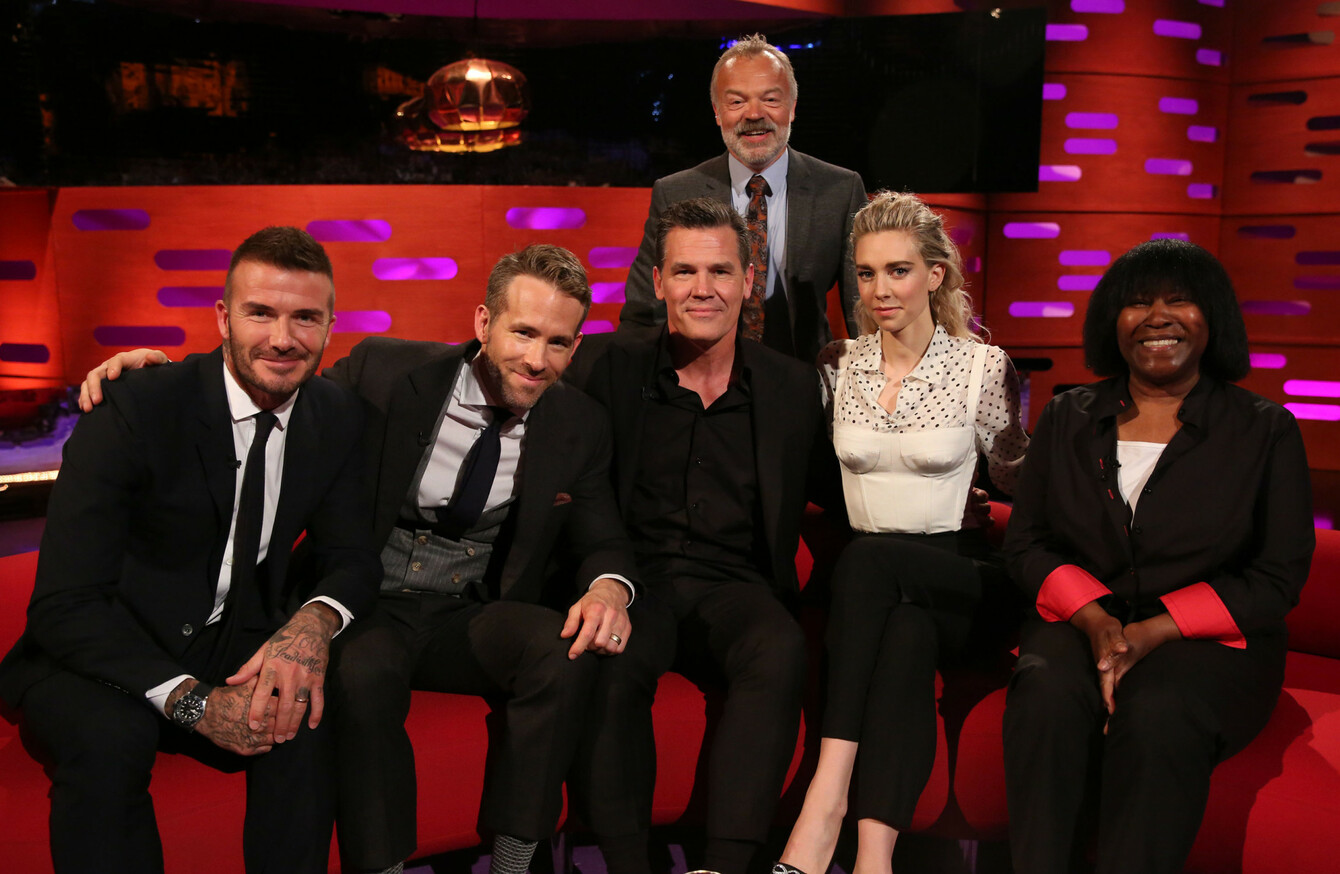 Image: Isabel INFANTES
Image: Isabel INFANTES
DailyEdge.ie rounds up the TV shows that you'll be tweeting about tonight and talking about tomorrow.
The Graham Norton Show (BBC One, 11.05pm)
Ryan Reynolds and Josh Brolin discuss the release of their irreverent superhero sequel Deadpool 2, while music legend Joan Armatrading chats and performs I Like It When We're Together, from her new album. Plus, another bunch of intrepid audience members attempts to recount an anecdote from the dreaded red chair.
Shaun Of The Dead (RTÉ Two, 9.30pm)
An unambitious 29-year-old man recently dumped and trapped in the job from hell decides to get his life back on track. Unfortunately, he has to put his plans on hold when zombies rise from their graves and stalk the streets of London to feast on the living. Standard. Comedy horror, starring Simon Pegg, Nick Frost, Kate Ashfield, Dylan Moran, Lucy Davis, Bill Nighy and Penelope Wilton.
The Late Late Show (RTÉ One, 9.35pm)
Former Ireland and Leinster No 8 Jamie Heaslip will be chatting about his career and the upcoming birth of his first child. British royal family Andrew Morton, Eurovision winners Johnny Logan and Secret Garden will also be in studio. Plus, we'll be finding out whether the budding restorers taking part in this year's Late Late Show Antiques Special were able to make a silk purse from a sow's ear with their old crocks.
Everyone's talking about: Brooklyn 99
Yep. Everyone is devo after Fox decided to cancel the show.
HOWEVER, all is not lost – there's rumblings that streaming giant Hulu could be set to revive the show.
Hulu, which currently owns the SVOD rights to the series, and Universal Television are in contact about the possibility of reviving the series, though any talk would be considered extremely preliminary. Another outlet or two has also expressed interest, according to one source.
Or flick over for…
Episodes (BBC Two, 10.00pm) The final episode of the comedy, starring Stephen Mangan, Tamsin Greig and Matt LeBlanc.
War Of The Worlds (TV3, 10.00pm) A divorced father's rare weekend with his two estranged children descends into horror when alien war machines rise from beneath Earth. As you do.
Scream 2 (Sky One, 11.00pm) A second serial killer adopts the ghost mask and embarks on a campaign of murder.
DailyEdge is on Instagram!