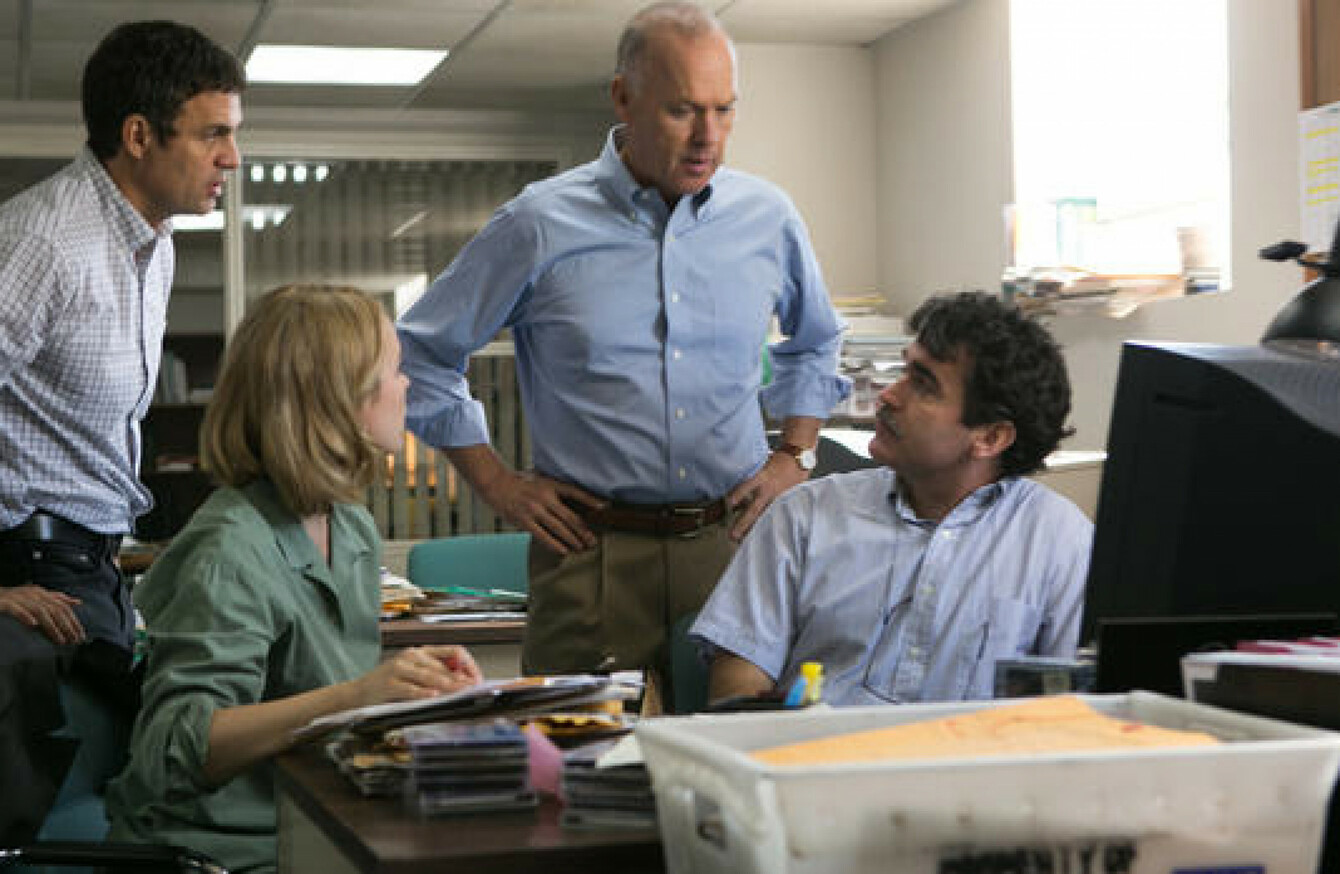 DailyEdge.ie rounds up the TV shows that you'll be tweeting about tonight and talking about tomorrow.
Spotlight (RTÉ One, 9.35pm)
Premiere. A team of investigative reporters for a Boston newspaper investigate reports of children being molested within the Catholic church. The journalists discover the situation is far worse than it seemed, as they find a conspiracy among the city's legal, religious and government establishments to cover up decades of abuse. Oscar-winning fact-based drama, starring Mark Ruffalo, Michael Keaton, Rachel McAdams and Stanley Tucci.
The Real Life Marigold Hotel (BBC One, 9.00pm)
New series. Nine celebrities embark on an experimental adventure to Udaipur in India, to test whether they can set up a more rewarding retirement than in the UK. Selina Scott, Susan George, Stephanie Beacham, Syd Little, Peter Dean, Bob Champion, Stanley Johnson and the Krankies are the volunteers. However, while veteran of India Stanley throws himself into the experiment with aplomb, Selina is unsure about the group living arrangements and first-time curry eater Bob struggles with the diet.
The Syndicate (TV3, 10.00pm)
Just a couple of weeks ago, single mother Becky was a trainee nurse with hardly two pennies to rub together. Now she is a multi-millionaire and the world is hers for the taking. But as she is whisked off into a new world of expensive dresses, champagne and VIP nightclubs, where she meets handsome professional rugby player Matt Greco, what does that mean for her fledgling romance with cafe worker Luke? Natalie Gavin stars in the lottery drama, with Siobhan Finneran, Alison Steadman, Mark Addy, Karl Davies and Lucien Laviscount.
Everyone's talking about: Jack and Dani (still)
Yep. The Love Island winners are getting married next year, according to Jack.
We're getting married next year, 100 per cent. Like my mum said to me so many times, 'When you know about someone, you just know'.
And now I know what she's talking about. I just know that's what we want to do."
(The Sun)
Or flick over for…
Love Island Australia (3e, 9.00pm) Get your fill of bogans now that the Uk one is finished.
Get Shorty (Sky Atlantic, 9.00pm) Miles and Louis rush to Los Angeles in an effort to save their film, while Rick, fearing for his life, flees into the mountains.
Louis Theroux: Dark States Trafficking Sex (BBC Two, 11:15pm) Louis explores the sex trade in Houston.
Transformers (Sky One, 9.00pm) Robots in disguise, the usual.
DailyEdge is on Instagram!