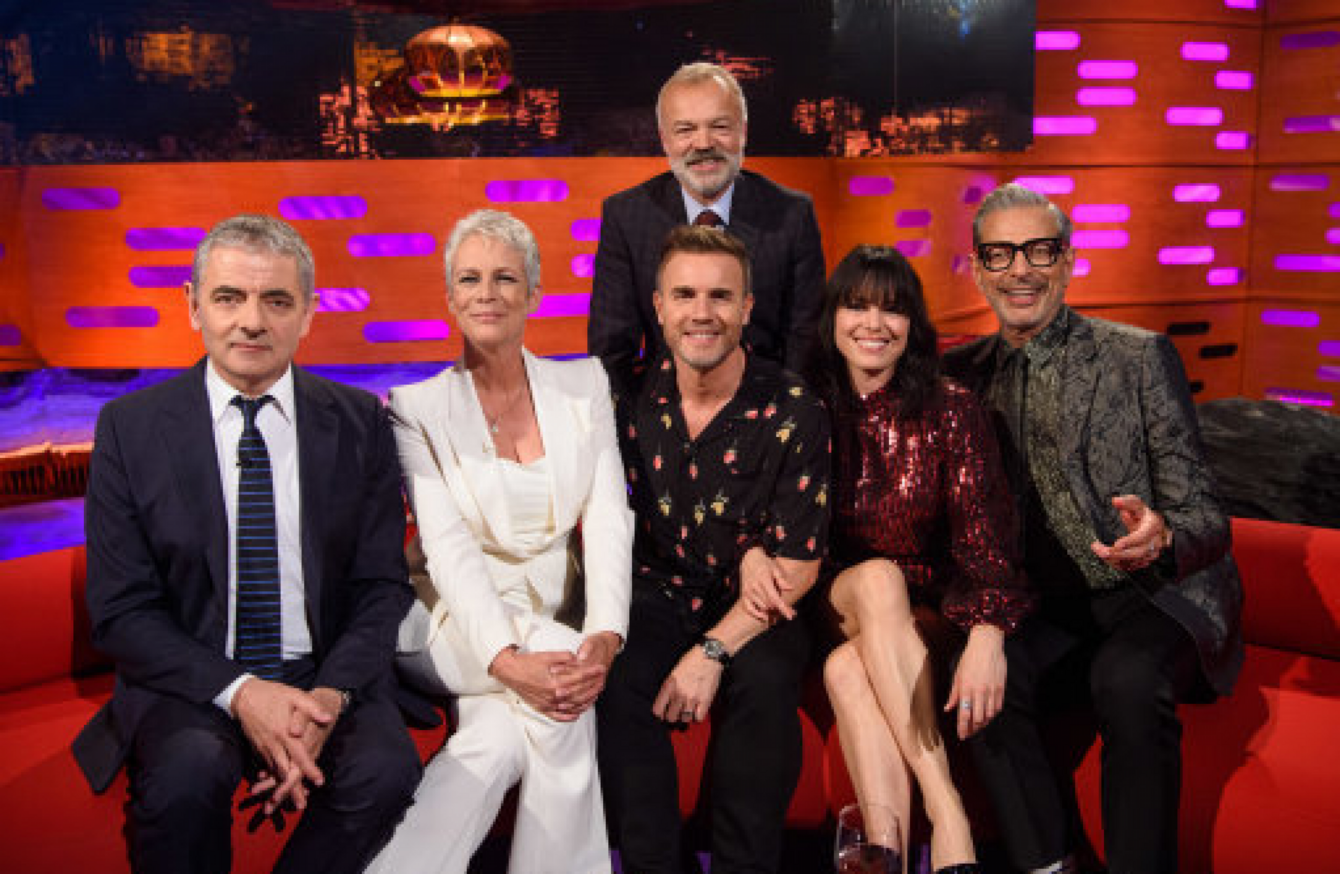 DailyEdge.ie rounds up the TV shows that you'll be tweeting about today and talking about tomorrow.
The Late Late Show (RTÉ One, 9.35pm)
Ryan Tubridy hosts the light entertainment show, featuring a mix of celebrity guests, music, in-depth interviews and discussions on the stories that have the nation talking. Hollywood royalty Jamie Lee Curtis joins Ryan live in studio. The Freaky Friday star will be chatting about returning to the horror franchise that made her famous with the much anticipated Halloween featuring her final showdown with Michael Myers, due to land in cinemas on October 19th. In preparation for the launch of her new show, Finding Joy, Amy Huberman will be on the couch to chat about creating her own television show from scratch and bringing that labour of love to the screen.
The Graham Norton Show (BBC One, 10.35pm)
Rowan Atkinson chats about new release, Johnny English Strikes Again, while Jamie Lee Curtis will be on again. (You can't shut that gal up, can you?) Pop impresario Gary Barlow talks about his autobiography A Better Me, while Hollywood king of cool Jeff Goldblum chats and performs Straighten Up and Fly Right with Imelda May. Plus, a another bunch of intrepid audience members attempt to recount an anecdote from the dreaded red chair.
Mastermind (BBC Two, 7.00pm)
New series. John Humphrys invites four contestants to take to the black chair and answer questions on their specialist topics of drama series The West Wing, musician Bob Marley, Neil Gaiman's Sandman series and soldier and condottiero John Hawkwood.
Everyone's talking about: The Walking Dead
Apparently, Rick's exit from the show is going to be extremely emotional. 
One of the show's creators, Robert Kirkman addressed the situation at New York Comic-Con, acknowledging to fans during his panel that losing Rick from The Walking Dead will be "heartbreaking".
"It's a deep bench on the Walking Dead show," he was quick to add. "I know we're all upset over the loss of Carl and equally upset over what's going to happen with Rick. But we all still love Michonne, Carol and all the other characters. Negan's still around.
There's a lot of great stuff coming. Those changes, while they bring us further from the comic, aren't going to limit us from adapting stories from the comic. You're still getting the Whisperers this season, and it's spectacular. There are some creepy, intense moments coming from the comic. There's a lot to be excited about."
Stress. (Digital Spy)
Everyone's ALSO talking about: The Toy Show.
WE HAVE A DATE PEOPLE. Get your Christmas pyjamas out – The Late Late Toy Show will air on 30 November this year, with Ryan confirming on his RTÉ Radio 1 show.
A buzz.
Or flick over for…
Big Brother: The Eviction (Virgin Media Two, 10.00pm) As one housemate leaves, two more enter.
Lethal Weapon (RTÉ Two, 10.00pm) An unstable Vietnam veteran cop teams up with a by-the-book detective to smash a drug ring.
The Expendables (Virgin Media One, 9.00pm) A mercenary team is double-crossed while on a mission to kill a South American dictator. Starring Sylvester Stallone.
The Great British Bake Off: An Extra Slice (Channel 4, 8.00pm) Jo Brand and a panel of celebrity guests chew over the latest goings on in the tent, meeting the week's eliminated baker and sharing unseen moments smuggled out of the tent flaps. 
Die Hard 4.0 (E4, 9.00pm) Tough cop John McClane goes on the trail of a criminal mastermind plotting a technological terror attack. Starring Bruce Willis.
DailyEdge is on Instagram!