DailyEdge.ie rounds up the TV shows that you'll be tweeting about tonight and talking about tomorrow.
True Detective (Sky Atlantic, 9.00pm)
In the final episode of this whopper series, Wayne struggles to hold on to his memories, and his grip on reality, as the truth behind the Purcell case is finally revealed. Poor Colin Farrell never stood a chance …
Child Genius (Channel 4, 8.00pm)
New series. Quizmaster Richard Osman returns with the nationwide contest to find the nation's brightest child, with 19 of the country's cleverest eight to 12-year-olds battling it out for the title. In the first round of the competition, the children must display a phenomenal array of linguistic skills when they are challenged to spell some of the most complicated words in the English dictionary. For round two, they must master Old English, a language so difficult it is normally learnt only by academics.
This Time with Alan Partridge (BBC One, 9.30pm)
New series. Due to the sudden illness of regular co-host of BBC One magazine show This Time, broadcaster Alan Partridge makes his long-awaited return to prime time TV when he is asked to stand-in as guest presenter. Comedy, starring Steve Coogan, with Susannah Fielding, Felicity Montagu and Tim Key.

Everyone's talking about: Eh, Alan Partridge
Alan was gracious enough to send a company-wide email within the BBC announcing his return, much to the delight of the staff.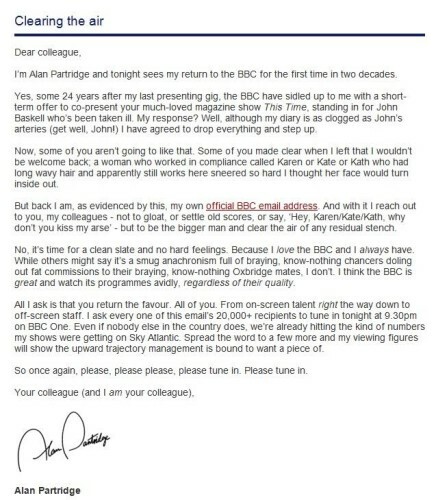 This outta be good. Elsewhere, the first trailer for Martin Scorsese's The Irishman just dropped, and it looks fairly cryptic so far.
Netflix / YouTube
Can't see the video? Click here.
It's coming to theatres and Netflix some time in the autumn – keep you eyes peeled for updates.

Or flick over for…
The 91st Academy Awards (RTÉ Two, 9.30pm) If you fancy seeing the action as it happened.
Burn After Reading (TG4, 9.30pm) A disc containing mysterious information from a CIA agent ends up in the hands of two unscrupulous and daft gym employees who attempt to sell it. Coen Brothers' comedy, starring Brad Pitt.
Portrait Artist of the Year (Sky Arts, 10.00pm) Nine contestants paint celebrity sitters David Gandy, Anne Reid and Ashley Walters, before the judges decide who to send through to the next round of the competition.
DailyEdge is on Instagram!