DailyEdge.ie rounds up the TV shows that you'll be tweeting about tonight and talking about tomorrow.
The Martian (RTÉ Two, 9.30pm)
A manned mission to Mars is abruptly abandoned, with one crew member left for dead. However, the astronaut has survived and faces a series of challenges – to contact Earth and arrange his rescue and to survive for the years it will take for a spacecraft to reach him on resources intended to last a month. Ridley Scott's sci-fi drama based on the novel by Andy Weir, starring Matt Damon, Jessica Chastain, Kristen Wiig and Chiwetel Ejiofor.
Inside Alton Towers (Channel 4, 9.00pm)
In June 2015, two carriages collided on one of the most popular rides at Alton Towers, injuring 16 people, five seriously. This documentary goes behind the scenes as the UK's biggest theme park attempts to win back visitors with the launch of their multi-million pound new roller coaster, Wicker Man. The film meets the roller coaster junkies keen to try the new ride; and with exclusive access to the theme park, follows the team at Alton Towers as they battle with the challenge of building a wooden structure that appears to burst into flames. Can the theme park sell the new ride to the public and a sceptical media?
Grayson Perry: Rites Of Passage (Channel 4, 10.00pm)
New series. Grayson Perry explores the landmark events in all of our lives – birth, coming of age, marriage and death – and tries to reinvent them for our modern secular age. This time, Grayson confronts death, and travels to the Indonesian island of Sulawesi to meet the Toraja people, whose ideas about death are very different. Later, Grayson meets a couple grieving the death of their 17-year-old son.
Everyone's talking about: The Big Bang Theory
Yes, the love/hate comedy 12th season will be its last.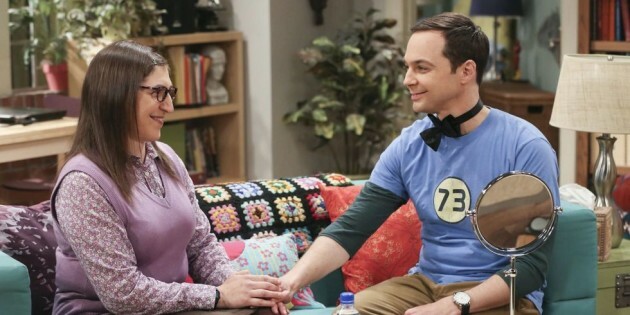 CBS and Warner Bros released a statement saying: "We are forever grateful to our fans for their support of The Big Bang Theory during the past 12 seasons.
We, along with the cast, writers and crew, are extremely appreciative of the show's success and aim to deliver a final season, and series finale, that will bring The Big Bang Theory to an epic creative close."

Or flick over for…
Location, Location, Location (Channel 4, 8.00pm) Because there's absolutely nothing depressing about watching people secure their dream house in this current climate, is there?
Instinct (Sky Witness, 9.00pm) A retired CIA officer is lured back into his old life when a homicide detective informs him a serial killer is using his first novel as inspo for a crime spree. US drama, starring Alan Cumming and Bojana Novakovic.
Celebrity Masterchef (BBC One, 8.00pm) Keith Allen, Michelle Ackerley, Martin Bayfield, Josh Cuthbert and Carol Decker are all creating dishes for John Torode and Gregg Wallace this week.
Fast And Furious 7 (ITV2, 9.00pm) You don't really need to have seen the other six to get it, but it would probably help.
DailyEdge is on Instagram!