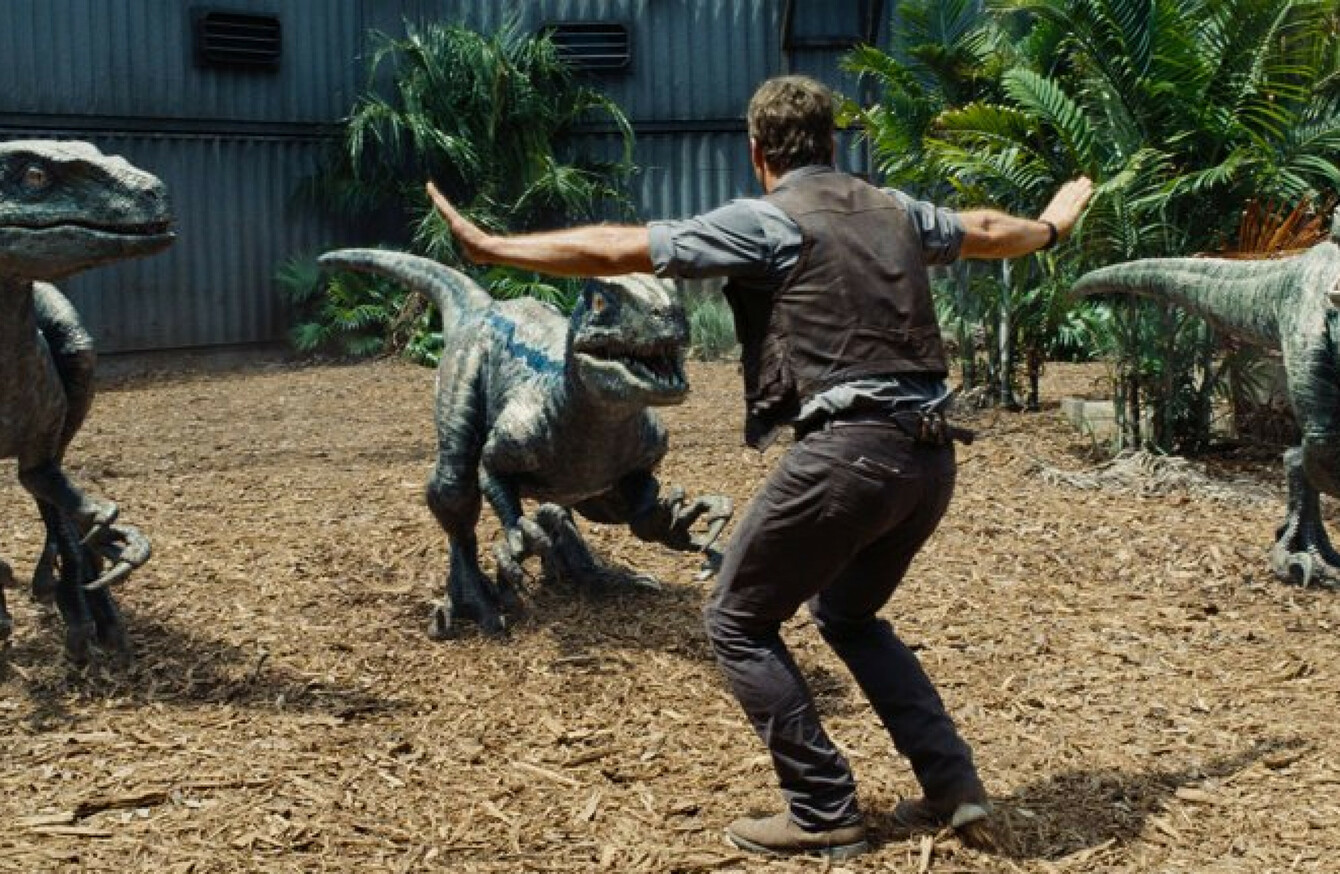 DailyEdge.ie rounds up the TV shows that you'll be tweeting about tonight and talking about tomorrow. And it's a bumper list given it's Stephen's Day and you have nothing to do but watch telly.
Jurassic World (RTÉ One, 6.25pm)
It's a big premiere to start with. Decades on from its first creation, Jurassic Park is now a fully operational attraction filled with genetically engineered dinosaurs. In need of a new attraction, the company behind the park creates an entirely new species – but it quickly escapes to terrorise the tourists. Action adventure sequel, starring Chris Pratt and Bryce Dallas Howard.
Back to the Future (RTÉ One, 1.35pm, Channel 4, 6pm)
The classics keep coming. Teenager Marty McFly travels back to the 1950s in a time machine built by his eccentric inventor friend. The return journey proves tricky enough, but he also accidentally alters the sequence of events that led to his parents falling in love – and has to persuade his future dad to win his mother's heart, or he will never be born. Sci-fi comedy adventure, starring Michael J Fox, Christopher Lloyd, Lea Thompson and Crispin Glover.
Kingsman: the Secret Service (RTÉ 2, 9.30pm)
Irish premiere. A streetwise teenager is taken under the wing of his dead father's old colleague, an agent working for a super-secret spy organisation. Will the youngster prove to be a chip off the old block by proving useful during a battle against a twisted, hi-tech genius? Action comedy based on a comic book, starring Colin Firth, Taron Egerton and Samuel L Jackson.
Waking Ned (TV3, 10pm)
An old man wins the lottery, then immediately drops dead of shock. Eager to get their hands on the money, two of his friends pretend he is still alive – and soon have the entire community conspiring to keep up the pretence in return for a share of the jackpot. Comedy, starring David Kelly, Ian Bannen, James Nesbitt, Fionnula Flanagan and Susan Lynch.
The Nathan Carter Christmas Special (RTÉ One, 9.20pm)
Nathan Carter… in a santa hat! The host is joined by special guests for a night of festive music, including Melanie C, Curtis Stigers, Una Healy, and the children from St Patrick's Junior Choir.
The Big Fat Quiz of the Year 2017 (Channel 4, 9pm)
Jimmy Carr hosts the comedy quiz looking back at the past 12 months, with panellists Richard Ayoade, Noel Fielding, David Mitchell, Big Narstie, Roisin Conaty and Katherine Ryan.
Little Women (BBC One, 8pm)
New three-part adaptation of Louisa May Alcott's quintessential 19th-century coming-of-age tale. The story begins in the depths of winter, during the American Civil War, as the March sisters Meg, Jo, Beth and Amy face Christmas without their father, who is away serving as a chaplain for the Union Army forces.

Or flick over for ...
Miracle on 34th Street (E4, 5.10pm) If you haven't caught it this Christmas, now's your chance.
Harry Potter and the Chamber of Secrets (RTÉ 2, 3.30pm) Harry's second term and perfect afternoon fare.
Raiders of the Lost Ark (RTÉ One, 3.40pm) Harrison Ford vs the Nazis.
Four Weddings and a Funeral (Channel 4, 11.10pm) Hugh Grant at his bumbling best.
Tommy Tiernan Live: Stray Sod (3e, 10pm) Some stand up if you're staying in.
The Green Mile (More4, 9pm) An epic Stephen King for the night that's in it.
Rugbaí Beo (TG4, 2.45pm) It's Munster vs Leinster and kick off is at 3.15pm. No rest for the wicked.
DailyEdge is on Instagram!