ON FRIDAY NIGHT, David Lynch made every Twin Peaks fan's heart skip a beat when he posted this tweet.
The tweet helped fuel speculation that the beloved cult series would be making a long-awaited return.
All that speculation was confirmed today with this follow-up tweet.
Yes, Twin Peaks will return in 2016 with a nine-episode run. According to Deadline, production on the series will begin in 2015 with the series slated to air on US cable network Showtime in 2016.
All nine episodes will be written and produced by original series creators/mad geniuses David Lynch and Mark Frost, with Lynch directing each installment.
The revamp will be set in the present day with characters and story threads from the original incarnation featuring in the new series. Kyle McLachlan is reportedly set to reprise his role as FBI Agent Dale Cooper, but other cast have yet to be confirmed.
The news has elicited excitement and trepidation in equal measure.
On the one hand…
And on the other…
Only time will tell.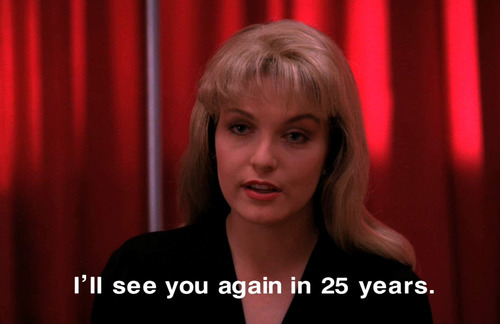 twinpeaksexplained / Tumblr twinpeaksexplained / Tumblr / Tumblr