AFTER WHAT FEELS like an age, Robert Sheehan's new show, The Umbrella Academy, finally hit Netflix over the weekend.
Netflix / YouTube
The much hyped series, based on the comic book series of the same name, has been going down well with fans …
… Which may or may not have been down to Sheehan's presence throughout.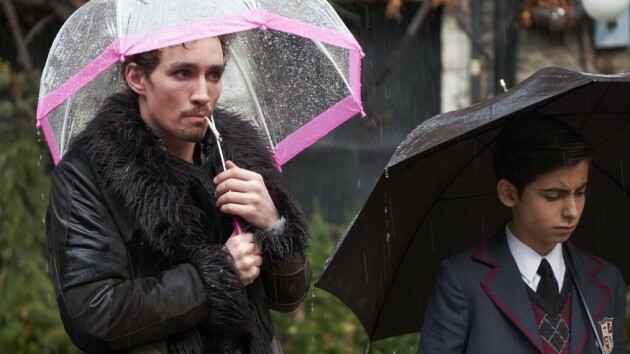 Netflix Netflix
Is it actually any use though?
Good question! Luckily, the reviews for the series have been coming in thick and fast.
Lucy Mangan reckons the series has a "daft name, daft concept" in her Guardian review. Fair, given that the show follows a disbanded group of superheroes who after their adoptive father, who trained them to save the world, dies.
It is purest hokum: a superhero show with some potentially interesting stuff lurking underneath about family dysfunction (mostly carried by Ellen Page as the black sheep) that promises never to be developed."
The ideal show to decompress with, seemingly.
Vox called the show "very weird" in their review, giving it, eh, 4 "Vs" out of 5.
The show is every bit as good, as delightfully odd, and as touching as the comic [...] The Umbrella Academy is surprisingly emotional, capturing the feeling of remorse that often comes with hurting our loved ones."
Here's a photo of Mary J. Blige's character Cha-Cha looking suitably conflicted.
Netflix Netflix
If you're expecting some Marvel madness – or avoiding the series for the same reason – perhaps it's time to reconsider your decision. Writing for IGN, Laura Prudom says it's "unfair" to compare The Umbrella Academy to other Netflix superhero offerings like Daredevil or Iron Fist.
The Umbrella Academy focuses on a dysfunctional family of heroes, who are drawn together by an eccentric and emotionally distant billionaire and tasked with saving the world from annihilation (with a healthy dose of time travel, dancing, and a talking chimpanzee thrown in).
Showrunner Steve Blackman has created a hilariously twisted, subversively stylish, and surprisingly poignant new superhero series that serves as both a witty deconstruction of our favorite comic book tropes and an ambitious, time-bending romp."
On the show, CNET's Aloyious Low thinks you'll love "the fast-paced action, the use of pop music and, most of all, superheroes who aren't shy to use their powers to kick butt.
The story builds slowly, making ample use of flashbacks (and some flash forwards) to tell the tale. Even by the fifth episode, I still wasn't sure where the plot was headed, despite the looming apocalypse."
A looming apocalypse? Surely the worst kind?
The Umbrella Academy is available to stream on Netflix.
DailyEdge is on Instagram!