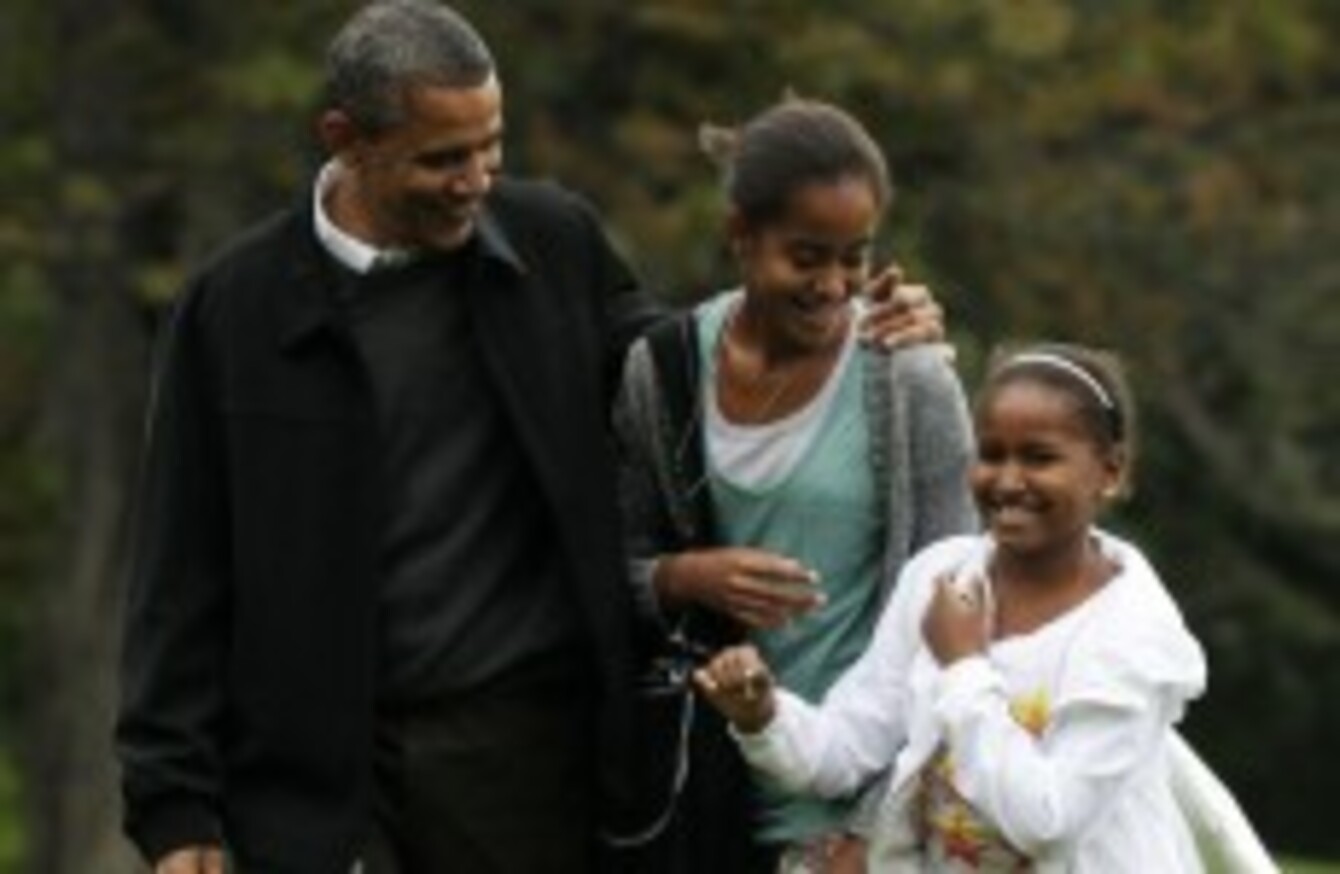 President Obama with his daughters Sasha (far right) and Malia. The girls haven't travelled to Ireland, but Uncle Enda didn't forget them
Image: Carolyn Kaster/AP/Press Association Images
President Obama with his daughters Sasha (far right) and Malia. The girls haven't travelled to Ireland, but Uncle Enda didn't forget them
Image: Carolyn Kaster/AP/Press Association Images
TAOISEACH ENDA KENNY transformed himself into "Uncle Enda" for a few moments earlier today when he presented an Irish-written book of stories about the US president's birthplace Hawaii  to Obama. He said that Legends of Hawaii, which features nineteen folk stories retold by Irish poet and novelist Padraic Colum, would tell Malia and Sasha "stories of their daddy's birthplace".
The book was first published in 1924 and Kenny was told about it by a professor of literature at Trinity College.
Malia and Sasha are no strangers to lavish gifts, and while the Taoiseach's gift of a first edition of three volumes of Colum's Hawaiian stories – available (though probably not a first edition) for around €18 on Amazon –  has the added kudos of both Irish and Hawaiian links, how does it measure up to other presents the first daughters have received worldwide?
Diamonds, dolls and DVDs
State Department documents released in the US in February reveal that they girls have been particularly spoiled when daddy made a trip to Saudi Arabia, with two necklaces and two diamond earring sets sent to Malia and Sasha worth more that $7,000.
Russia kept things traditional with a gift of two 15-piece nesting dolls worth $500, while South Korea bestowed $570 worth of scarves, teddy bears and a jewelry box on the two girls. Chile presented Malia and Sasha with more than $800 worth of designer clothes, while Australia beat Enda Kenny to it with a literary gift, giving the girls four books and 17 DVDs worth more than $400.
President Obama isn't one to keep score though. He's called Kenny's present an "extraordinary gift" and said it "just confirms that if you need somebody to do some writing, hire an Irish man".
Sadly, Malia and Sasha may not even get to get their hands on the Taoiseach's gift, as the US Constitution states that federal officials are prohibited from "accepting gifts from foreign sources".  Most presents are stored away or put on display.