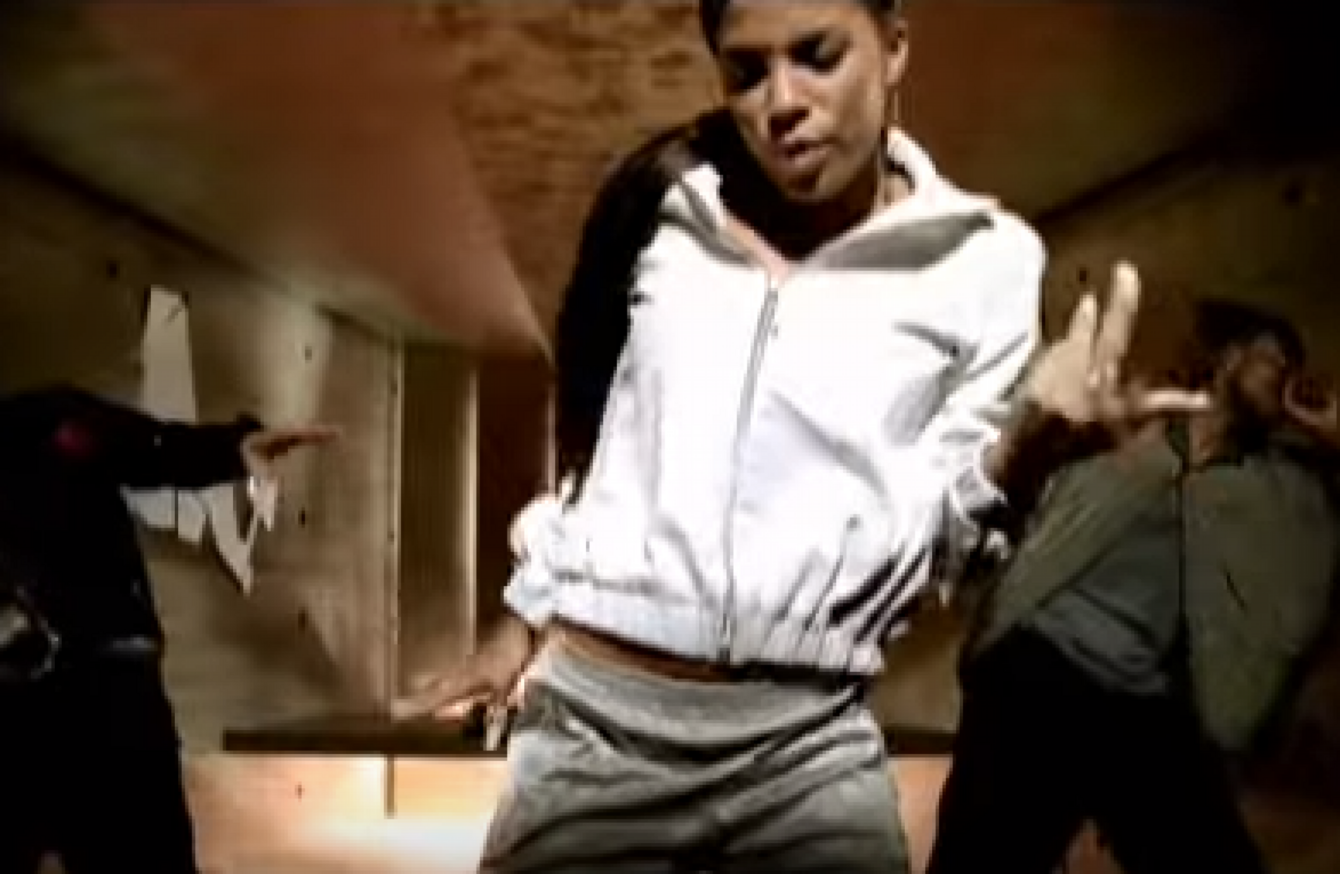 1. Stacie Orrico – Stuck
Source: JournalOfJco/YouTube
Stacie Orrico's career may have been short-lived but between this and There's Gotta Me (More To Life), she left an indelible mark on pop music. Stuck is both insanely catchy and very dramatic.
I HATE YOU BUT I LOVE YOU/I CAN'T STOP THINKING OF YOU/IT'S TRUUUUUE
Perfect teen girl pop.
2. JoJo – Leave (Get Out)
Source: Jake SG Steven/YouTube
Reminder that JoJo was a 13-year-old child when she shot to number one with this. Much like Stuck, it lends itself well to dramatic performances. "You said that you would treat me right, but you was just a waste of time."
WE FEEL YOU, GIRL.
3. Vanessa Amorosi – Absolutely Everybody
Source: skv90rec/YouTube
The aural equivalent of a fun barbecue, tbh.
Imagine how well this would do at Eurovision.
4. Alice Deejay – Better Off Alone
Source: Innes Mac/YouTube
A handy song to roar along to when you've had a few beverages seeing as the only lyrics are "Do you think you're better off alone?" and "Talk to me".
Singing along to the beeps is absolutely mandatory, though.
5. Melanie C – Never Be The Same Again
Source: melaniecmusic/YouTube
In which The Artist Formerly Known As Sporty Spice disowned her frivolous Spice Girls past and got real/serious with the help of Lisa 'Left Eye' Lopes.
V. v. v. solid tune.
6. t.A.T.u. – All The Things She Said
Source: tATuVEVO/YouTube
In hindsight, this was a craaaazy song/video/act. Russian schoolgirls kissing in the rain? What? But it is still a legitimate banger and doesn't get played enough.
So there.
7. 3 Of A Kind – Babycakes
Source: emimusic/YouTube
The definitive one-hit wonder of the 2000s.
Don't listen to it if you don't want it stuck in your head for the rest of the weekend.
8. Big Brovaz – Nu Flow
Source: BigBrovazVEVO/YouTube
Big Brovaz were a pop/hip-hop collective that were around for a few minutes back in the early 2000s. During that time, they released a selection of moderate bangers including, bizarrely, a remix of My Favourite Things from The Sound of Music.
Nu Flow still holds up, IMHO.
9. Sugababes – Round Round
Source: SugababesVEVO/YouTube
Reminder that this was on the soundtrack for The Guru.
We won't hold that against them, though.
10. Mary Mary – Shackles (Praise You)
Source: MARYMARYVEVO/YouTube
Who among us hasn't sweated it out on the dancefloor to this gospel banger?
Early 2000s goodness.
11. Sophie Ellis-Bextor – Murder on the Dance Floor
Source: WELOVEPOP/YouTube
We defy you to listen to this and not dance like a goofy aunty at a wedding.
Plus, how much of a babe was Sophie Ellis-Bextor? <3
12. Liberty X – Just A Little
Source: LibertyXVEVO/YouTube
Puts Hear'say's Pure and Simple to shame. It also features some exemplary cane choreography.
"I just wanna see you get do-ow-own"
13. Blue – All Rise
Source: emimusic/YouTube
Blue might not be the coolest boyband — that title is still held by Five, thank you very much — but they did have some pretty good tunes in their time.
All Rise combines beats with courtroom jargon ("Objection overruled!") and we couldn't love it anymore if we tried.
14. DB Boulevard – Point of View
Source: AltraModaMusic/YouTube
DB Boulevard Point of View might just be the chillest song ever written and it is featured at the end of a very good Sex and the City episode. What could be more early 2000s than that?
15. Christina Milian – AM To PM
Source: Tahir Sako/YouTube
If you were a tween in 2001, chances are you spent some time in your bedroom making up elaborate dance routines to AM To PM.
"Somebody hit the lights, so we can rock it day and night!"
- you, before you had ever even stepped foot inside a teen disco.
16. Princess Superstar – Bad Babysitter
Source: heico86/YouTube
Hands up if you can recite the spoken word intro to this.
"OK, honey, now the name of the restaurant…"
17. Lumidee – Never Leave You (Uh Oh)
Source: Emil D/YouTube
We're just going to say it — Never Leave You (Uh Oh) was ahead of its time and honestly sounds like something Rihanna would record now. In fact, it sounds like a slightly grittier Pon de Replay.
Fair dues, Lumidee.
18. Ms. Dynamite – Dy-Na-Mi-Tee
Source: polydorclassics/YouTube
I'm just Ms. Dynamit-ee-hee…
19. Crazy Town – Butterfly
Source: CrazyTownVEVO/YouTube
The aural equivalent of cheap cans, but sure, didn't we love it?
COME MY LADY COME COME MY LADY YOU MY BUTTERFLY SUGAR BABY
20. Panjabi MC – Mundian To Bach Ke
Source: Prochorowka/YouTube
You've spent the last 14 years making up lyrics to this, haven't you?
21. Rachel Stevens – Some Girls
Source: whitelights/YouTube
Petition to get Rachel Stevens off The Voice of Ireland so she can get back to doing what she does best — making good pop songs  like this and Sweet Dreams (My LA Ex).
DailyEdge is on Snapchat! Tap the button below to add!