THERE ARE TWO types of people in this world – those who care about Valentine's Day and those who don't.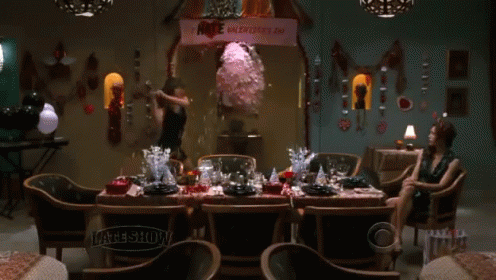 It really doesn't matter what group you fit into - you do you - but no matter what type you are, the chances are you find the temptation to watch soppy romance movies more intense this time of year.
Yes, with heart-shaped balloons in every window display and giant teddy bears taking up valuable space on the bus, love is most certainly in the air whether you like it or.
So, whether you're going to be celebrating the holiday of love this year or not, maybe these movies will get you in the spirit of things.
Here are 26 romantic movies you can stream on Netflix right now.
1. Bridget Jones' Baby
Based on Helen Fielding's fourth book Bridget Jones' Baby : The Diaries,  Bridget's focus on being single and her career is interrupted when she finds out she is pregnant, but with one hitch she can only be fifty percent sure of the identity of the baby's father.   
Source: Universal Pictures/YouTube
2. Set It Up
New York assistants, Harper and Charlie, are used to going above and beyond for their high-powered (and highly demanding) bosses, Kristen and Rick. But now they're teaming up for the biggest projects of their young careers - getting their bosses to fall in love! Only time will tell whether they strike out...or score a home run.
Source: Netflix/YouTube
3. IBIZA
When Harper is sent to Spain for an important work meeting, her hard partying friends tag along and convince her to pursue a fling with a famous DJ.
Source: Netflix/YouTube
4. Leap Year
Anna chooses February 29 to propose marriage to her boyfriend, but after meeting a charming Irish innkeeper, she must evaluate her original plans 
Source: Movieclips Classic Trailers/YouTube
5. What To Expect When You're Expecting
Challenges of impending parenthood turn the lives of five couples upside down. Two celebrities are unprepared for the surprise demands of pregnancy; hormones wreak havoc on a baby-crazy author, while her husband tries not to be outdone by his father, who's expecting twins with his young trophy wife; a photographer's husband isn't sure about his wife's adoption plans; a one-time hook-up results in a surprise pregnancy for rival food-truck owners.
Source: LionsgateFilmsUK/YouTube
6. Life as We know It
Holly and Eric discover reciprocal hatred during their first date, but must put their feelings aside after becoming guardians of their friends baby.
Source: Warner Bros. UK/YouTube
7. This Is 40
After many years of marriage, Pete is the sole male in a household that includes his wife, Debbie, and two young daughters. As Pete struggles to keep his record label afloat, he and Debbie navigate a three-week course of sex and romance, career victories and financial hardships, aging parents and maturing children. They'll have to learn to forgive, forget and enjoy the rest of their lives -- before they kill each other.
Source: Universal Pictures All-Access/YouTube
8. Valentine's Day
Valentine's Day follows the intertwining storylines of a group of Los Angelenos as they find their way through romance over the course of one Valentine's Day.
Source: Warner Bros./YouTube
9. Four Weddings and A Funeral
A commitment-phobic Brit tries to reconnect with an alluring American who's about to make a seemingly awful mistake by marrying a wealthy, boring man.
Source: Movieclips Classic Trailers/YouTube
10. About A Boy
Hip, irresponsible Londoner Will invents an imaginary son and starts attending single parent meetings to find available women.
Source: SplitTrailers/YouTube
11. My Best Friend's Wedding
When she learns that her platonic pal is getting married, food critic Julianne Porter realizes her true feelings for him and tries to sabotage the wedding. 
Source: Sony Pictures Home Entertainment/YouTube
12. When Harry Met Sally
Harry and Sally are friends who resist sexual attraction to maintain their friendship, a relationship that's always teetering on the brink of love.
Source: UsSkyPic/YouTube
13. Maid in Manhattan
Sparks fly when a chambermaid and a rising politician literally collide at a posh New York city hotel.  The only problem – he assumes shes a guest. 
Source: Maid In Manhattan - Trailer/YouTube
14. Pride & Prejudice
In this adaptation of Jane Austin's novel, Elizabeth Bennet, lives with her mother father and sisters in the English countryside.  As the eldest she faces mounting presume to marry. When the outspoken Elizabeth is introduced to handsome and upperclass Mr Darcy sparks fly.  Although there is obvious chemistry between the two, Darcy's overly reserved nature threatens the fledgling relationship.
Source: Movieclips Classic Trailers/YouTube
15. Howards End
When a husband, acting in his family's best interest does not accept his wife's deathbed wish, providence dictates that he pay for his duplicity. 
Source: Cohen Media Group/YouTube
16. PS I Love You
When she loses her beloved husband to a brain tumour, grieving widow Holly Kennedy learns that he left a series of letters behind to help her cope.
Source: Movieclips/YouTube
17. Love, Rosie
Based on the book "Where Rainbows End" by Cecelia  Ahern, 'Love, Rosie' is romantic comedy about Rosie and Alex who have been best friends since they were 5 years old, so they couldn't possibly be right for one another, or could they? When it comes to love, life and making the right choices, these two are their own worst enemies.
Source: Movieclips Trailers/YouTube
18. Our Souls At Night
After widowed neighbours Addie and Louis begin sleeping in bed together platonically to alleviate their loneliness, a real romance begins to blossom.
Source: Netflix/YouTube
19. The Notebook
Two young lovers Noah Calhoun and Allie are torn apart by war and class differences in the 1940s in this adaptation of Nicholas Sparks best-selling Novel.
Source: eOnefilms/YouTube
20. Dear John
While on leave, a US soldier John Tyree falls for a Southern college student Savannah Curtis, but then he must re-enlist, their handwritten letters hold the lovers together. 
Source: Sony Pictures Entertainment/YouTube
21. Safe Haven
When a mysterious women arrives in a small North Carolina town, she begins a new life but remains haunted by a terrifying secret.
Source: Movieclips Trailers/YouTube
22. To All The Boys I've Loved Before
Lara Jean Song Covey's love life goes from imaginary to out of control when the love letters for every boy she's ever loved—five in all– are mysteriously mailed out. 
Source: Netflix/YouTube
23. The Kissing Booth
A pretty, teenage girl, who has never-been-kissed, finds her life turned totally upside down when she decides to run a kissing booth and unexpectedly ends up locking lips with her secret crush.
Source: Netflix/YouTube
24. Alex Strangelove
High school senior Alex Truelove has it all - the grades, the girlfriend, and the motley crew of hilarious friends. Everything is smooth sailing until Alex shares that he's decided to part ways with his virginity - and meets Elliott, a sweet and confident gay boy who isn't shy about his instant crush on Alex...who may or may not feel the same. Rocketed into a endearing and amusing journey of sexual and self-exploration, Alex ultimately learns that like so much of growing up, love can be confusing. And that's okay.
Source: Netflix/YouTube
25. Angus Thongs and Perfect Snogging
Georgia has two goals:  Nab a gorgeous boyfriend and throw the best 15th birthday party ever: Her first goal is within reach when a new boy arrives in town.
Source: Trailers and Movieclips/YouTube
26. Twilight
When Bella Swan moves in with her father, she starts school and meets Edward, a mysterious classmate who reveals himself to be a 108 year old Vampire.
Source: MovieStation/YouTube
DailyEdge is on Instagram!