YESTERDAY, VICE CANADA published an article and photo series about Limerick City entitled "Portraits From Stab City".
Canadian photographer Yasin Osman travelled to Limerick to photograph a tech conference that was taking place in the city.
During his trip, he ventured outside the city and took a series of striking portraits of Limerick residents.
yescene yescene
In the article, Osman writes about accidentally venturing into a "sketchy" part of the city and accompanying two young boys to their house to meet their family.
After taking some photos of her family, the mother advised me to put my camera and cellphone away since the sun was setting. I asked her why I shouldn't be out, and she said that some of the youth were violent and she didn't want me to get stabbed. One of the boys standing there said as he laughed, "Don't you know? Limerick's nickname is 'Stab City.'" I thought, Damn, am I really in Ireland?
He also wrote about asking a teenager for directions, only for the teenager to turn around and reveal that he was carrying a knife.
The guy looked at his watch and said "you have five minutes to get home" while pulling his shirt up and showing me a hidden knife. I turned the corner and sprinted.
Many Limerick people have taken issue with the article and believe that it perpetuates negative stereotypes about the city.
Over on Facebook, meanwhile, the article stirred up a lot of controversy amongst Irish readers with many contending that Limerick isn't as bad as the article makes it out to be.

Vice / Facebook Vice / Facebook / Facebook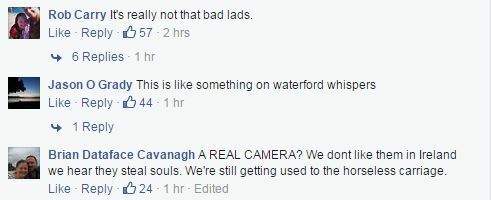 Vice / Facebook Vice / Facebook / Facebook

Vice / Facebook Vice / Facebook / Facebook
Even Limerick's most famous sons, Rubberbandists, have weighed in and described it as yet another example of Vice's "unique hipster fetishism".
A sentiment Vice clearly didn't appreciate…
You can read the article and view the photo series here.