SORRY, EVERYONE WHO thought they'd scored a state-of-the-art TV for €7. It's not going to happen.
Viking Direct has apologised to customers who placed orders after a 51″ Samsung 3D plasma TV was advertised on its website for €6.49 excluding VAT: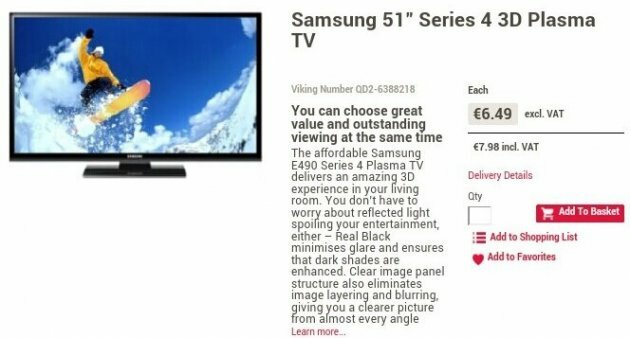 Screen grab via @jimboireland, with permission
The discovery sparked a flurry of excitement on Twitter and other forums including Boards.ie, with several users saying they had placed orders.
As the news spread, speculation grew as to whether the orders would be fulfilled:

However, the office supplies company – who later rectified the price – have confirmed to DailyEdge.ie that the TVs will not be delivered.
In a statement, Viking said the incorrect pricing was down to a simple error. Anyone who ordered one will receive a full refund, the company said:
Viking is unable to fulfil orders placed for the television at the incorrect price. Customers who placed an order for the television will automatically be given a full refund.

As per Viking's terms and conditions, the company is entitled to cancel any order if the ordering web pages contain any error, including in relation to the description or price of any goods.
Viking apologised to customers "for any inconvenience". At the time of publication, the link to the product had been removed and customers were directed to a freephone number for assistance.