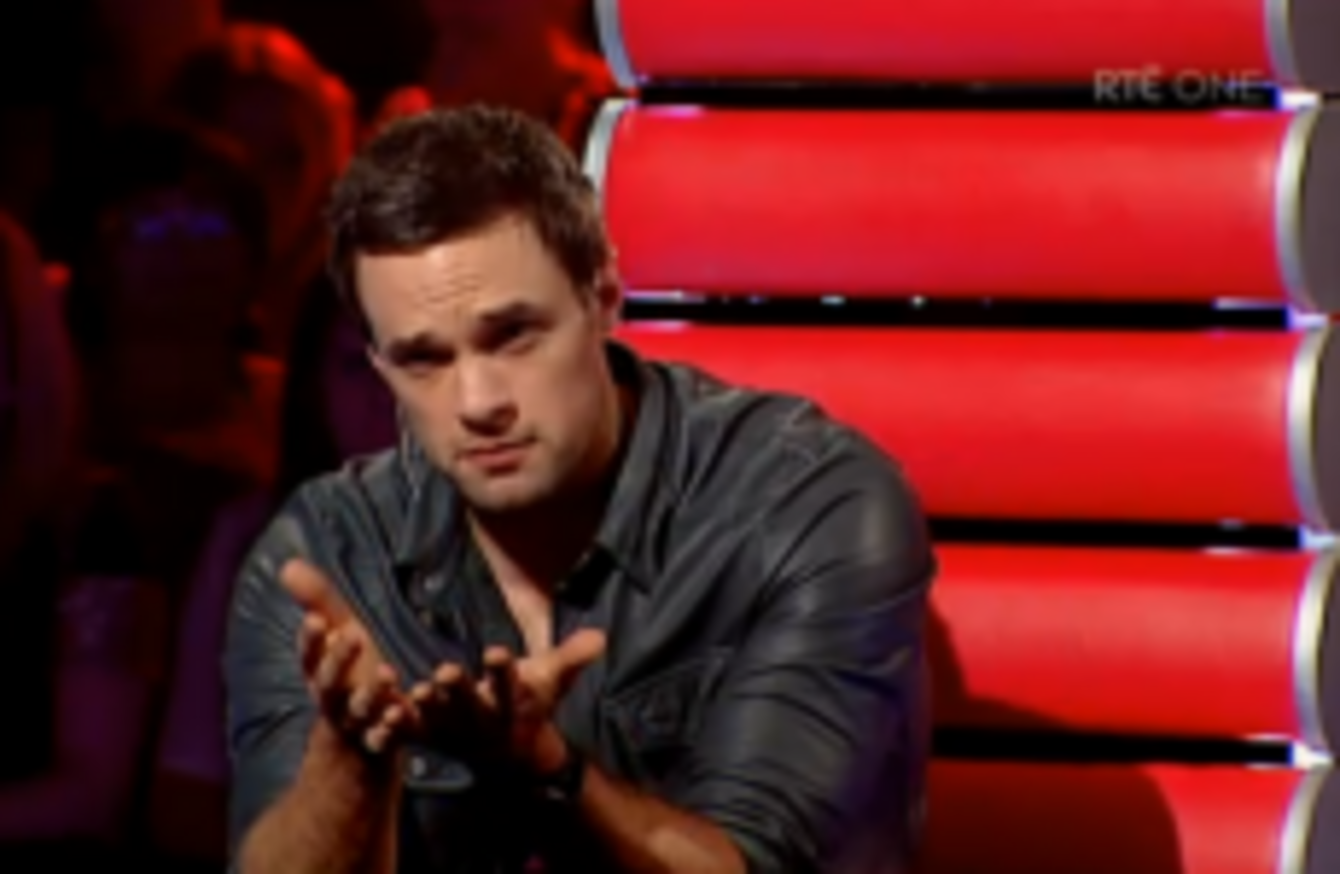 Image: RTÉ
Image: RTÉ
THE VOICE OF Ireland returned to our screens for a second season last night.
It was a 90-minute flurry of whirling chairs, Rihanna tunes and squabbling. And we sat through ALL of it. Here are our favourite bits.
*screechy song noises* THIS IS THE VOIIIICCCCE…
1. Being reintroduced to these chairs. THE CHAIRS OF DOOM. *cue explosion noise*
2. Bressie. Lovely, lovely Bressie.
And the others. You know.
3. The first contestant, who forgot to do up half his dungarees
And his nickname was "Mammy's Boi". Because he's from Cork, like.
This is what his mammy thought of it:
4. The contestant who REALLY liked Bressie
"I'll tell him I want to lick him."
"I'm sweatin' looking at it."
Well, she has a point.
5. The many faces of Sharon Corr
Wistful:
Hark! What is that faraway sound:
Rearing up in shock:
Drawing with an imaginary pencil:
Pained:
Imagining:
6. The contestant who sang these words with a straight face
"Swag swag swag on you / Chillin' by the fire while we eatin' fondue."
Oh, Justin Bieber. You are a poet.
7. The contestant who looked EXACTLY like Gavin from Gavin and Stacey
GAVLAAAAARR.
(Jon Crwys-Williams/EMPICS Entertainment)
8. The inner torment of Kian Egan
Revealed every time a contestant took to the stage. It's OK, Kian. It's just a game.
9. All the contestants picking Jamelia, always, all the time
Well you would, wouldn't you? Look at her. She's only lovely.
10. Bressie's leather shirt
Is it sweaty in there, Bressie? ARE YOU SWEATING? ARE YOU?
Silly us. Bressie never sweats. His pores exude pure talcum powder.
11. The contestant's relative who said "I want to punch their heads in"
Tell it!
12. Sharon's trousers of pure gold
She should really get together with this man.
13. The most nervous mammy in the world, ever
Fists of pure emotion.
14. The intense feelings of Kathryn Thomas
Nobody feels emotions like Kathryn Thomas. We were treated to a wide selection:
Nervous:
Fist-pumping happy:
Mildly grudging appreciation:
Crowing:
Unalloyed joy:
Nervous (variant #2)
Predatory:
All images: RTÉ