WE'VE ALL BEEN there. Attempting to keep the shopping to a minimum so you can nip through the express lane at the supermarket is no easy feat.
However, we doubt Florida man John L. Malherbe expected the reaction he got when he brought too many items to the till in the '20 items or less' lane at Wal-Mart.
65-year-old Malherbe was 'checking out' when fellow customer William E. Golladay began counting his items, The Washington Times reports. An official police report states that the 77-year-old became frustrated and lashed out when he noted that Golladay had a few extra bits and pieces.
NBC 6 says witnesses told the authorities that the elderly man appeared to completely lose control, intentionally shoving his shopping trolley into Golladay's elbow while aiming for his right side.
It's understood that Malherbe was then escorted from the premises but later returned and made a beeline for Golladay, before being removed once again. He's now facing charges of felony battery for the incident.
This isn't the first time a Wal-Mart express checkout dispute has made headlines though. NBC Chicago reported that an off-duty Deputy had been accused of pulling a gun on a pregnant couple in a row over some eggs back in Feburary 2012.
It would seem that it's the source of a fair bit of stress on Twitter too. Although, nobody wants to condone supermarket violence now.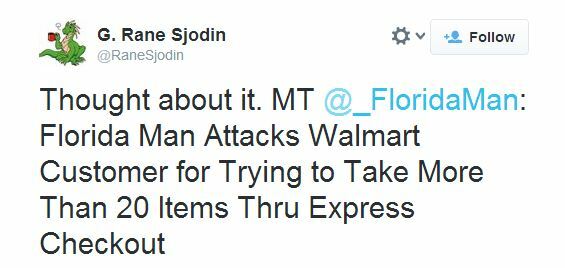 The problem isn't strictly a Wal-Mart one either. Sure haven't we all felt the same in Dunnes, SuperValu and Tesco to name but a few?