WHO SAID PRINT is dead?
Ned Hawkins and Oisín Langford are enjoying much success with their business, Stellar, which produces hand-drawn comics for sale in Dunmore East, Co. Waterford.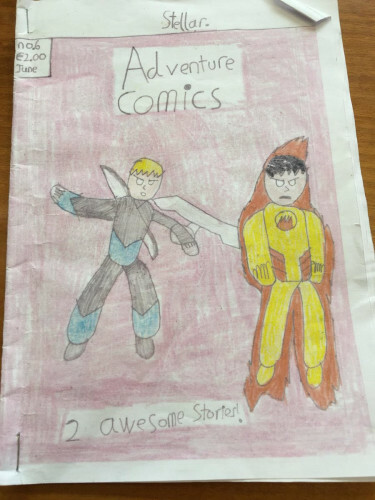 Stellar Stellar
Aged 11 and 10 respectively, the lads have been selling comics for three months, with the support of William Power's Centra.
When Ray D'Arcy happened to pick up a copy on his travels, the lads were quick to get in touch:
We would like to have an interview at any time today on RTÉ. Reply with the time please. Business is good, but always open to further promotion."
Entrepreneurs, take notes.
Speaking on The Ray D'Arcy Show on RTÉ Radio 1, Oisin explained how, as well as being head of marketing, he was also head colourist. (It's important to note here that the lads are going in to FIFTH CLASS. What are you doing with your life?)
Ned and Oisin usually sell copies per issue for €2 per copy, making for some lovely profit margins.
CEO Ned explained his role in the company:
I have to manage the finances and try to keep everyone happy about it."
Motivation is key, as is discipline when it comes to Oisín colouring outside the lines:
He doesn't usually do it, but if he does, I'll have to make him redo that page."
Fair, TBH.
Other duties involve folding pages, ruling pages, drawing thumbnails, and so on. The lads are renting Ned's mam's second bedroom as an office at the moment, but they're already looking ahead to expanding – getting a new printer and renting their own office.
Before that, Oisin explained that the pair had to fire all of their previous team, and they're looking to start over. Get your CVs in quick, lads!
On their inspiration for the series, Ned said: "We try to keep it humourous, because Marvel and DC are quite dark, so we think that we should be humourous and show that superheroes can be funny as well." (Batman isn't exactly up for a laugh, is he?)
Expect to see these guys on Dragon's Den in the future …
You can listen to the full interview here.
DailyEdge is on Instagram!