Updated Wednesday, 8am
YESTERDAY, IRELAND'S FINEST satire source Waterford Whispers published a story about a stampede in Lidl.
It described an incident at a store in Dunboyne, Co Meath in which "thirty people were injured" when a second checkout opened.
Waterford Whispers Waterford Whispers
The story also featured quotes from fictional local woman "Sheila Mannion"…
who had spent the time leading up to the stampede bitching about how she only had a loaf of bread and should have been let go ahead of those with full trolleys
It's pretty obviously satire.
However, it has now been reported with a straight face by respected German news weekly Focus.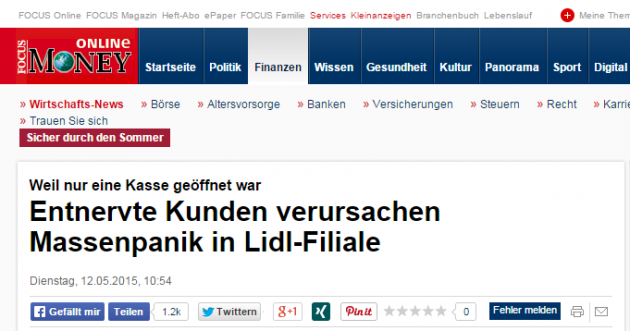 Focus Focus
(This headline translates roughly as "Because only one checkout was open… Unnerved customers cause mass panic in Lidl store".)
The Focus report describes the incident as follows:
Customers in a Lidl store in Dunboyne, Ireland had been waiting for what felt like an eternity when finally a second cash register was opened. What happened next is almost unbelievable [...] a stampede occurred and more than 30 people were injured, as the "Waterford Whispers News" reports.
It includes quotes from "Sheila Mannion", although it doesn't mention her loaf of bread or her bitching.
Photocall Ireland Photocall Ireland
The article on the website of the magazine – whose main edition has a circulation of more than 500,000 copies, and is described on this corporate page as "the key medium of the cosmopolitan urban elite in Germany" - concludes:
This accident has again raised the pressure on Lidl to open more than one cash register during peak times in its stores.
Which, frankly, is a step down from the Waterford Whispers version:
This latest incident has brought fresh pressure on Lidl to open more than one checkout during rush hour; although the retail giants are unlikely to do so as this would cut down on the amount of staff available to push pallets of bottled water around the shop at all times.
It's not the first time Waterford Whispers has seen 'real' news outlets fall for its stories. A 2014 article about North Korea claiming to have launched a rocket to the sun also went international.
Update: the Focus article has now been altered to become a report on the success of the satirical story, with this forlorn editor's note:
Focus Focus
Editor's note: An earlier version of this article failed to warn that the story in question was satirical.