IT'S REALLY HARD to find a room in Dublin right now, what with the influx of students and rising rents.
This place in Harold's Cross looks promising though. Doesn't it?
In the now deleted advertisement for the house share, the man outlines his unconventional living proposal in black and white.
Hi. All my friends that I ran past the idea of what you're about to read told me it's crazy, weird and that it has no chance of success but I'm still going to do it, because…why not !?Primarily, this advert is reaching out to all broad-minded, smart, sexy, confident, unconventional and adventurous dames that will have to live in Dublin for a limited time only and would consider sharing this double bedroom, their body and life experience for the duration of their stay with a sexy,outspoken and laid-back gentleman such as me.
Yup, you read that right ;) Nope, I'm not crazy by any means, maybe just a tad eccentric.
Yes. A tad.
The full ad explains that the mysterious landlord lives in the house with his brother and another man and woman.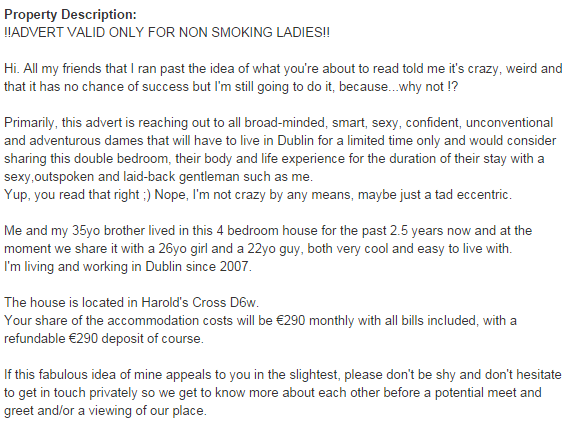 The man also offered another room for single occupancy for a lady that doesn't fancy his social experiment proposal.
We'll probably pass, but cheers.
via Reddit