WELCOME TO THE Weird Wide Web – where we take a look at some of the internet's best offerings in social media, tech, science and weird news.
Size of the universe
We all know the universe is big… but just how big?
Two infographics showing the scale have had a pretty good crack at putting the size in context – but be warned:
Earth: not as big and important as you might think.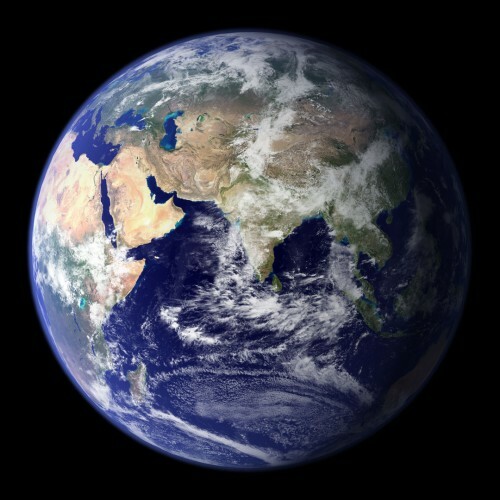 Image via photopedia/CC
Magic and augmented reality
Augmented reality – the melding of the real world with computer-generated imagery – is the "perfect medium" to investigate magic, according to virtual magician Marco Tempest.
In his fascinating TEDTalk, Tempest demonstrated his "technological magic", with live visuals reacting to his presentation in real time.
Uploaded by TEDtalksDirector
Kindergarteners tweet
Twitter already has more than 350 million users, but things might be about to change: the new kids in town are here and they're… well… kids.
"Twitter is ideal for five-year-olds because it is so short," New York teacher Jennifer Aaron told the New York Times about her attempt to demonstrate how teaching methods can change along with developing technologies.
Aaron has embraced the microblogging site as a medium to instruct her students in retaining information, composing messages and communicating information effectively.
'Real-Life Dolls' causing a stir online
Teenagers have a habit of doing odd things in the quest to assert their personalities – and the latest craze of dressing like living dolls is no exception to the rule.
Two of the most popular YouTube stars, known as Dakota Rose and Venus Angelic, give tutorials on how to created that sought-after "balled-jointed doll" look…
Uploaded by VenusAngelic
Uploaded by dakotakoti
Project glass
Google finally unveiled its long-rumoured Project Glass conception this week, and it was worth the wait.
The company has created eyeglasses which offer all the functionalities of a smartphone, meaning that users can read maps, text messages and reminders without having to lift a finger. Literally.
If that's not enough, users can also take photos and engage in video-chats by using voice commands.
So – want to see what your life could look like?
Uploaded by Google
(That said, Buzzfeed points out what you really want from Google glasses…)
Ask a rapper
It's an age-old conundrum: you love a book, a film or a piece of music, but you find yourself debating with others about what it really means. Did you ever wish you could grab Shakespeare or William S Burroughs – probably a bad idea, admittedly – and ask them just what they meant by something?
Your dreams have been answered… well, sort of.
Rap Genius, a site dedicated to illuminating fans on the meanings behind their favourite songs, has begun to give artists verified accounts so they can explain their songs.
Line by line explanations of lyrics means that, even if you're not into rap, you might find yourself getting stuck in this space for a while.
Nas is one of the artists with a verified account on Rap Genius