WHERE WERE YOU when Westlife called it a day?
In the year when the world was predicted to end, many fans' ones did, when Shane, Kian, Nicky and Mark decided to hang up their stools and call time on their illustrious career as one of Ireland's biggest boybands (it's best not to antagonise the Boyzone fans reading.)
There was a sense of deja vu among the masses – eight years prior in 2004, Brian McFadden originally coined the term 'Brexit', when he left so he could "commit 100%" to his family. 
Now, as the 20th anniversary of the year they formed looms, the lads are heading back out on the run to regale us with the stories of days of pop past – and maybe sing a few tunes while they're it. 
westlifeVEVO / YouTube
Can't see the video? Click here.
Where did key changes and slow bangers fit in today's musical landscape?
Before we can look forward, we must look back. What made them a mainstay in Irish culture? What was it about them that brings a little bit of Aisling out in all of us, be it in Coppers or the 'disco' at a wedding?
Westlife were significantly less edgy than Boyzone, a fact which worked for them rather than against them. There was no identifiable 'bad boy' in Westlife (until Brian left, that is.)
They delivered a good mix of solid pop bops – from the bouncing melody of 'If I Let You Go', to the instantly recognisable intro of 'When You're Looking Like That', to the endless number of ballads they became best known for. It also helped that they could actually sing, though a few may dispute that when it comes to Kian and Nicky.
"They weren't afraid to make covers of huge hits such as 'Uptown Girl'," Cork superfan Valerie tells DailyEdge.ie.
They never worried about measuring up to past artists – that's what I loved so much about them."
They were as wholesome as boybands got at the time – five (or four) lads, fully-clothed the majority of the time, singing with longing about the people they loved (without objectifying them, of course.)
They had blonde highlights and t-shirts with the sleeves cut off to beat the band. In fact, Nicky Byrne was freeing the nipple before anyone on Instagram was. (We love a woke bae!)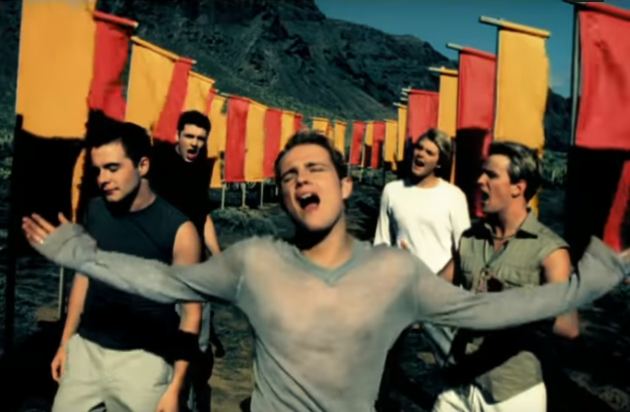 A still from Westlife's video for 'If I Let You Go'
"Westlife were always one with the people, not just with their musical excellence but with their active roles in charity work and of course flying the flag for the LGBT community," Val continues.
"Mark Feehily was the first high profile celebrity that I can remember growing up who came out as gay. He did it with grace and purpose allowing me to truly recognise that gender, sexuality, race or ethnicity doesn't matter and most certainly should not discriminate. as long as that person's happiness triumphs."
It's an appeal that continues to endure, and in places you'd least expect it. South east Asia never got off the Westlife train, with local radio stations keeping the band on near constant rotation. You only need to search 'Westlife' on Twitter or Instagram and you'll be met with an array of fan accounts from across the globe.
During one of his solo tour, Shane Filan told the Irish Mirror about a stop he made in Vietnam, and the pandemonium that followed him.
"They definitely didn't forget, it's incredible out here. I was driving along from the airport the other day and there was a huge big billboard of me for a show I'm doing over here next month, it's just weird.
"It's funny, everyone notices you. I was in a shopping mall the other night and everyone spots you and asks for a photograph. I suppose they don't expect to see you.
I get recognised more here than I would in Dublin, it's mad. But it's great, it's why I'm here so much."
For us though, as pop got flashier, raunchier, the lads just couldn't keep up. No Michael Bublé cover could save them from the onslaught of American popstars we were being exposed to at an increasingly rapid rate. 
Fast forward to 2018, and they look set to play three huge dates in Ireland – two at The SSE Arena in Belfast, one at Croke Park in Dublin – with a promise of new music to follow.
What's changed, if anything?
"I was reared on the music of Westlife," Bríd Browne, a Westlife fan from Wexford tells DailyEdge.ie, adamant that she has a VHS of her singing 'My Love' somewhere. "One of my earliest memories is of me and my brother belting out the 'Coast to Coast' album on every family road trip.
I knew every Westlife lyric before I knew how to read. When I hear their music now, that all comes flooding back and I'm 5 years old again.
"I don't think I'll ever be "over it"," she says. "And to be honest, I hope I'm always that gal who's up on the table at predrinks giving it socks to 'When You're Looking Like That'.
A picture of Bríd as a child in 2000, in the midst of Westlife Fever
Someone else who's certainly not over it is Chloe Timmons, a fellow Wexford Westlife stan.
"It's so exciting!" she says of the reunion. "I have great memories of all the Westlife gigs I went to with my granny when I was a child so it'll be amazing to relive that as an adult.
She did take a break form the fandom briefly while the lads pursued follow careers, which she admits she didn't follow.
Nicky was always my fave so I just followed him a bit."
nickybyrneVEVO / YouTube
Can't see the video? Click here.
Was now the right time for a reunion? Both girls are of the opinion that now is as a good time as ever when it comes to the lads.
"I think they could've come back anytime," Chloe says. "It's more about the nostalgia of seeing them perform live again than hearing new Westlife music."
Bríd adds: "I don't know if there is ever a 'right time' but the rumour mill has been turning for so long now that it's not really a surprise they chose their 20 year anniversary to roll back out.
It's definitely the nostalgia factor, most concert goers/ticket buyers these days are millennials and those same people can remember Westlife's entire catalogue.
They're old enough now to appreciate how good the music was when it was first released and excited by the thought of getting to experience all over again as adults."
Not everyone is in agreement though. Dublin superfan Aisling reckons the band are capitalising on that growing trend of nostalgia.
"Being a Westlife fan in 2018 is joyfully nostalgic, and now being 30 mostly involves being that person at weddings or parties politely demanding the DJ to 'World Of Our Own' along with The Spice Girls, and occasionally getting into heated public debates over who was a bigger fan (namely with Danish comedian Sofie Hagen).
Westlife will always hold a special place in my heart. Even though I didn't follow the last couple years of their career with such devotion, hearing a Westlife song brings back lots of fond and slightly cringe-worthy memories."
"Personally I feel it's too soon since their breakup for there to be a significant level of excitement from me and they maybe should have left it to celebrate 25 years instead of 20″, she says.
"It will only be 7 years since their last gig, and that still feels recent enough, maybe it's because at that point in 2012 I was going in a nostalgic fashion that it feels very soon to be doing it again.
We're living in an age where nostalgia is proving to be incredibly lucrative and even as a self-professed Pop-Tart, I'm starting to feel there are far too many opportunistic pop comebacks at the moment, that the market feels cluttered and I wonder if they'll just get lost in the noise of this."
Despite initially following Shane's solo career, and enjoying his gig setlists peppered with Westlife hits, Aisling is a bit more cynical when it comes to why they've decided to reunite.
"There's a feeling their solo music careers haven't been as successful as they would have hoped and this is good for the bank balance. They do seem really enthusiastic about it so maybe I'm being harsh."
What about Brian, then?
Ian West Ian West
Earlier this year, he told the Irish Sun how the four other former members of Westlife turned down a cash deal worth €10 million each from Simon Cowell to revert to their original line-up.
Last night, he tweeted: "Wishing the boys the best of luck with the tour. 20 years at the top is an incredible achievement.
I had a wonderful six years with the boys but I have nothing but admiration for the lads working their asses off for this long!
"Long may it continue boys. Flying the flag X," he concluded.
Is it right to move forward with it as a result, given that he was a member for six years?
"Honestly, I don't understand why Brian would even be considered," Chloe says, nailing her colours to the mast. "He was only with them for 6 years so it would definitely feel a bit odd having him there for the 20-year reunion."
Bríd feels similarly: "As long as Mark is there to carry them all it makes no odds to me."
Meanwhile, Aisling is less against a hard Brian border.
"It's hard to call as he was with them for a decent chunk of the their career but he did make the decision to leave because he was so miserable.
They did prove they worked as a foursome so bringing Bri(y)an back might feel like getting back with an ex from a bad relationship."
"I can see why they'd be reluctant to have him rejoin, as when they announced their 'split', it was amicable with the intention of reuniting down the road." 
Eight years since they split, are they willing to fork out the bones of €60 to, eh, 'Swear It All Over Again'?
"I will absolutely be there," Chloe says. "Can't wait to hear them banging out 'Bop Bop Baby' in Croke Park."
"One hundred percent," Bríd concurs. "I'm gonna bring my Mam and bawl my eyes out to 'My Love'."
Aisling reckons it'll be "a fun night out", though don't expect her to see her queuing from all hours at the Ticketmaster kiosk.
"I'm not back to the days of queuing up to meet them or anything like that so I'm happy enough to hang on til closer to the time to get tickets. Although, I did see some reactions on Twitter about people being very concerned about being able to get tickets so maybe my attitude will change between now and next week."
Valerie describes herself as the band's "number one fan", so you can probably guess what she said.
"My family and I were absolutely devastated when they announced their split. We were the lucky ones to be able to go to their last ever performance in Croke Park – an emotional but beautiful one say the least!"
I'm praying that I'll be lucky enough to get tickets!"
Westlife play Croke Park 5 July 2019. Tickets from €59.50 go on sale Thursday 25th October at 9am via Ticketmaster.
DailyEdge is on Instagram!