WESTLIFE PERFORMED THEIR new single 'Hello, My Love' for the first time ever this week on The Graham Norton Show.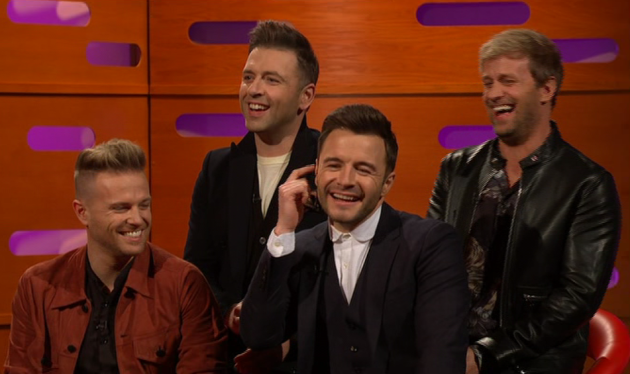 BBC / The Graham Norton Show BBC / The Graham Norton Show / The Graham Norton Show
There they are now, delighted to be alive. Can you blame them, given that the track's gone straight to number 1 in the UK, giving them their 15th one overall? 
In terms of any future new material though? Don't be expecting any Oasis covers or collabs, TBH. Nicky Byrne regaled host Graham and guests Sarah Paulson, John C. Reilly, Steve Coogan, James McAvoy and Richard E Grant about the time the lads met Oasis early on in their career.
"Basically we were a young band in 1998 and we just signed a record deal over here [the UK]," he explained.
"We had flown into London and the label said to us 'there's a brand new Tommy Hilfiger store opening, go along and try get papped, try get noticed.'" Makes sense, right?
"And when we arrived there were superstars, Liz Hurley and Oasis were there and was '98 so What's The Story Morning Glory was out, their biggest album," he said. "So we thought we had to go over and say hello.
So they were having a drink in a circle of people so me and one of the boys walked over and tipped them on the shoulder.
Liam turned around and we said 'Liam we're Louis' new band, Louis Walsh's new band!' and he just went 'f*** off.' So we just f****d off."
Listen, they're having the last laugh anyway, given that they're selling out tour dates all over the shop. When John C Reilly queried how the Oasis tour was coming along, Nicky promptly replied: "They can f*** off." 
Well, that's one way to kick off a comeback. You can watch the full performance and interview below or by clicking here.
backtofilan / YouTube
DailyEdge is on Instagram!