DailyEdge.ie rounds up the TV shows that you'll be tweeting about tonight and talking about tomorrow.
Live Well For Longer (Channel 4, 8.00pm)
An investigation into the subject of diet and gut bacteria, as well as the benefits of bacteria on our mental health with Tamal Ray from the Great British Bake Off and Kate Quilton.
Hang Ups (Channel 4, 10.00pm)
New comedy series following a therapist with a chequered professional career who must re-launch his career online after a hiccup with his group therapy practice. However, with his teenager children, high-flying wife, unconventional parents, eccentric therapist and useless best friend, life looks to be a bit chaotic.
The Big Short (RTÉ One, 9.30pm)
Film with an all-star cast of Christian Bale, Steve Carell, Ryan Gosling and Brad Pitt. Four investors become aware that a housing market flaw means that a financial crisis is inevitable. They hatch a plan to exploit the economic misfortune of those not in the know, but are later confronted with the consequences for ordinary people.
Everyone's talking about: House of Cards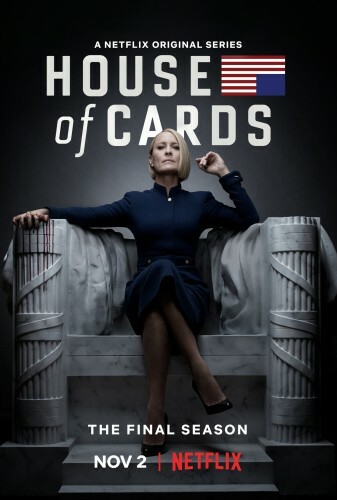 Netflix Netflix
Netflix has announced a release date for the sixth and final season of 'House of Cards'. The show will return on Friday, 2nd November and will see Robin Wright (Claire Underwood) take the lead role after the abuse allegations against Kevin Spacey.
Starting House of Cards from the beginning to prep for the next season! Some people actually still ask me why I watch the show after the Kevin Spacey issue. They fired his ass, rewrote the entire season, and cast Robin Wright as the lead. OF COURSE IMMA WATCH IT.

— Jess Williams👩🏼‍⚕️ (@jessicamisado) August 6, 2018
We'll have to wait 87 days for Robin Wright's turn. https://t.co/pEN47pCtnc

— CNET (@CNET) August 7, 2018
Bonus fact:
I was today years old when I found out that Robin Wright who plays Claire Underwood in House of Cards also played Jenny is Forrest Gump.

— Richard Beere (@grizzlybeere) August 5, 2018
Or flick over for…
Love Island Australia (3e, 9.00pm) Love on an Island in Australia.
Reeling in the Years (RTÉ One, 6.30pm) It's 1965 – The Beatles and Rolling Stones were battling in the charts and America and the Soviet Union were in a space race.
Long Lost Family (TV3, 9.00pm) Tissues at the ready for emotional family reunions.
Lethal Weapon (E4, 9.00pm) LAPD drama with all the sexy shoot-outs and quick quips you expect.
DailyEdge is on Instagram!